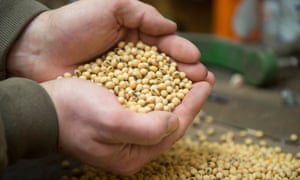 A dark cloud hangs over China and the United States. America has announced successive protectionist tariffs pursuant to its domestic laws, forcing China to take counter-measures. The so-called "investigations" under legislation, such as section 301 of the US Trade Act of 1974, risk igniting a trade war between the world's two biggest economies. But a trade war, which would be unpopular, damaging and anachronistic, should and can be avoided.
There would be no winner in a trade war. If the Trump administration, by announcing unilateral protectionist measures, believes there could be, it must be suffering the damaging after-effects of the years in which it had a hegemonic mindset. It must also be suffering from historical amnesia.
For the most recent "safeguard" tariffs – on steel by the Bush administration and on tyres from China by the Obama administration – all backfired. They did more harm than good to the US. Likewise, the previous 125 unilateral investigations carried out by the US under section 301 caused damage to many other countries, including the UK, Germany and France.
Should a trade war erupt, the multilateral trade system would bear the costs, and the global economy, which is yet to fully recover from the last crisis, would be at risk again. The global trade arrangements, including the General Agreement on Tariffs and Trade of 1947, and the World Trade Organisation, established in 1995, were built on international consensus, after the bitter lessons of the 1930s Great Depression and the second world war. These rules have contributed hugely to global trade and economic growth. All countries, including the US, must cherish and safeguard those achievements.
To uphold the rules-based international trade regime as well as to safeguard its own legitimate rights and interests, China has taken counter-measures. The total value of our additional tariffs – first $3bn (£2bn) and then $50bn (£35bn) – is commensurate in scale with the measures taken by the US….