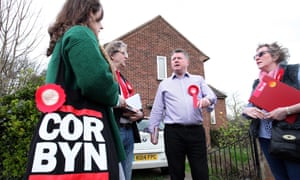 On the doorstep in the teatime rain in one of Peterborough's down-at-heel suburbs, no one is talking about Brexit. No one is even talking about their council tax bills, which have just landed on doormats containing a hefty 6% hike.
A young woman in black leggings comes to the door. She has five children, she tells the Labour candidate, and she has had her benefits capped. Now she is so far in arrears with her private landlord that she is expecting to be made homeless any day.
"My kids are between two and 13. Where will I find a house with four bedrooms?" she asks. She doesn't expect an answer.
A few doors along, a rosy-cheeked young Latvian promises to support Labour.
Two years ago, Peterborough was Brexit central. In June 2016, the city split 60/40 for leave. Feelings ran so high that the voters' angry mood was splashed on the front of the Daily Mail. But that was then. Now politics in the city is rather more local. In the estates and in the leafier parts of owner-occupied Peterborough alike, it's all about fly-tipping.
Yet the anxieties are not unconnected. Down narrow alleys old mattresses lie soaking up the rain. Beer cans and the odd cigarette packet litter the shallow grassy banks between the cul-de-sacs of 1970s housing, built when the ancient cathedral city was reinvented as a new town. No one lets their kids play outside here. The grass verges of the inner ring road that scythes apart one neighbourhood from another are punctuated by bin bags and the odd microwave.
It is the detritus of a highly mobile population living in short-term accommodation. This is a city where the population growth, a significant part of it from new EU member states in Eastern Europe, was too fast for services to keep up. Apart from London and the Isle of Wight, it has had the highest inward immigration of anywhere in the UK: the population grew more than 11,000 to 196,000 in…