Labour's latest bitter row over antisemitism could hardly have come at a worse time for the party's army of activists in the north London Tory stronghold of Barnet.
Demographic changes, controversy over the council's performance, and the cumulative impact of eight years of funding cuts mean Labour believes it has its best chance in more than a decade of winning control here.
Even before the election campaign got under way, an internecine battle within the Conservative group saw one deselected councillor resign in March, losing the Tories overall control.
"Barnet has been moving towards Labour now for quite a while. We have been campaigning almost non-stop for eight, 10 years. It's hard work," says the leader of Barnet's Labour group, Barry Rawlings.
But on a Monday evening last month, Rawlings and many of his local colleagues, including Jewish councillors, joined the protest in Parliament Square against their own party's botched handling of antisemitism.
With Golders Green, Finchley and Mill Hill, all of which have thriving Jewish populations, in their patch, local councillors here are acutely conscious of the issues.
Ten of the 63 candidates they are standing in May are Jewish, including a rabbi. Barnet Labour has been at the forefront of efforts to tighten up the party's rules on hate speech.
"It does sometimes come up on the doorstep," Rawlings says. "We've got good relations locally but I won't pretend the national picture's helped us. On the other hand, we've made it clear where we stand, and asked them to put their trust in us – whatever faith they are."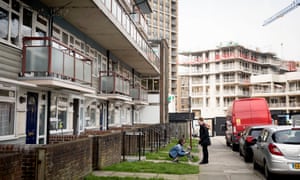 Last Friday, in the spring sunshine, Rawlings and a group of Labour colleagues were out knocking on the doors of an estate of well-kept semis in the swing ward of Hale, sandwiched between the A1 and M1.
If Labour could take those two seats, and the political makeup of the rest of the borough remained unchanged, it would seize control of the council, which has been in Tory hands since 2002.
Rachel Barker, a sparky 25-year-old Labour candidate, hands a householder a leaflet describing the Conservatives as "Heartless Nationally, Hopeless Locally", and listens to his concerns about potholes, policing and…