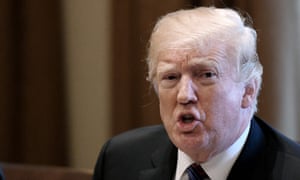 Amid rising concern about a possible trade war between the US and China, Donald Trump said on Sunday Beijing will ease trade barriers "because it is the right thing to do", thereby allowing the economic superpowers to settle the disputes that have rattled financial markets, consumers and businesses.
However, two of the president's top economic advisers simultaneously offered mixed messages as to the best approach to China, which has threatened to retaliate if Washington follows through with proposed tariffs.
"President Xi [Jinping] and I will always be friends, no matter what happens with our dispute on trade," Trump wrote on Twitter. "China will take down its Trade Barriers because it is the right thing to do. Taxes will become Reciprocal & a deal will be made on Intellectual Property. Great future for both countries!"
Trump did not explain why, in a week of economic saber-rattling between the two countries that shook global markets, he felt confident a deal could be made.
The president made fixing the trade imbalance with China a centerpiece of his presidential campaign, frequently using incendiary language to describe how Beijing would "rape" the US economically. In office he has made overtures to Xi and pressed China for help with derailing North Korea's nuclear ambitions. But he has also ratcheted up the economic pressure and threatened tariffs, a move opposed by many fellow Republicans.
The Trump administration has said it is cracking down on Chinese theft of US intellectual property. The US bought more than $500bn in goods from China last year and now is considering penalties on some $150bn of those imports. The US sold about…