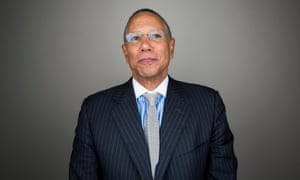 Donald Trump's attacks on the press are "out of control" and damaging "the civic life and debate of the country", the editor of the New York Times said on Sunday.
Dean Baquet was responding to a tweet in which the president attacked his main rival.
"The Washington Post is far more fiction than fact," Trump wrote. "Story after story is made up garbage – more like a poorly written novel than good reporting. Always quoting sources (not names), many of which don't exist. Story on John Kelly isn't true, just another hit job!"
The Post story in question concerned the reportedly waning power of White House chief of staff John Kelly and what the paper called "recurring and escalating clashes [with] the president [that] trace the downward arc of Kelly's eight months in the White House".
The Post said the story was based on "interviews with 16 administration officials, outside advisers and presidential confidants, many of whom spoke on the condition of anonymity".
On Saturday Axios also carried a story on Kelly, reporting that he threatened to quit on 28 March. The website cited "sources familiar with events" and quoted an unnamed "senior administration official" who played the story down. It also said Kelly had threatened to quit many times before.
Trump has regularly complained about anonymously sourced press reports and books and attacked media targets including the Times, CNN and NBC. Baquet appeared on CNN's media talk show, Reliable Sources.
Trump's antipathy, he said, "hurts the media. I think the president missed the part of high school civics where the…