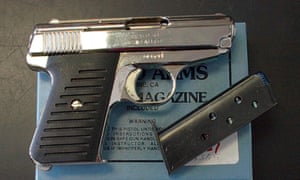 A South Carolina Republican pulled out a loaded handgun during a meeting with constituents on Friday, in an attempt to make a point that guns are dangerous only in the hands of criminals.
One campaigner for gun reform who was present at the "coffee with constituents" meeting called US representative Ralph Norman's actions "a far cry from what responsible gun ownership looks like".
According to local news reports, Norman placed the .38-caliber gun on a table and said: "I'm not going to be a Gabby Giffords." He was referring to a former Democratic Arizona congresswoman who was shot outside a grocery store during a constituent gathering in 2011.
Giffords' husband, retired Nasa astronaut Mark Kelly, said in a statement that Norman was "no Gabby Giffords" and noted that his wife has dedicated her life to ending gun violence.
"Americans are increasingly faced with a stark choice: leaders like Gabby, who work hard together to find solutions to problems, or extremists like the [National Rifle Association] and Congressman Norman, who rely on intimidation tactics and perpetuating fear," Kelly said.
Jeff Flake, a Republican Arizona senator, addressed Norman on Twitter. "I sincerely hope you never have to experience…