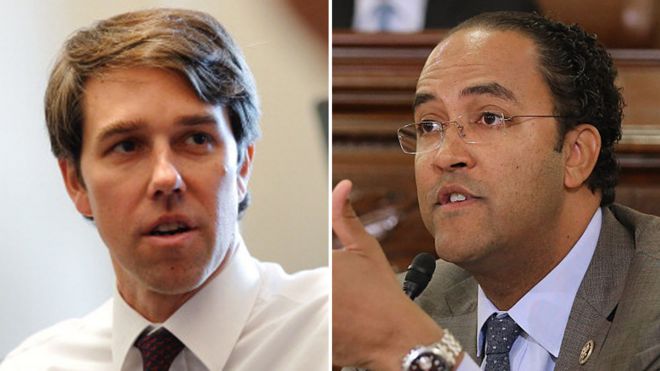 Beto O'Rourke and Will Hurd are Texas congressmen on opposite sides of the political divide who formed an unusual friendship a year ago during a road trip that was broadcast to millions. But with looming elections threatening them both, American voters might show they want confrontation over co-operation.
It was the most unexpected of road trips, like a low-budget, made-for-cable buddy film. Democrat O'Rourke and Republican Hurd, both US congressmen representing west Texas districts, were stuck in their home state due to an East Coast snowstorm. It was Monday, and they had to be in Washington for scheduled votes by Wednesday.
No flights? No problem. The two piled into a rented Chevy Impala and made the 30-hour drive, stopping for a few hours in Tennessee for a visit to Graceland and a quick nap.
"That was a really fun, honest, real thing because nobody planned it," O'Rourke says with a laugh, looking back on the year anniversary of that 2017 odyssey. "Nobody cooked it up. It was just, hey, Will, both of our flights got snowed in, how about we drive across the country? And Will called my bluff."
The two broadcast the whole thing on social media, taking questions, singing songs and sharing snacks along the way. The trip became a viral sensation, and by the end of it the two congressmen pledged that they had learned important lessons about what's wrong with US politics and how they could help make it right.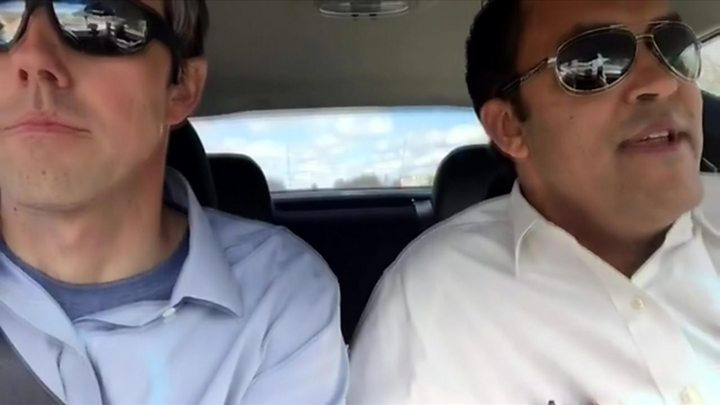 "Here was my takeaway from this, and it's still valuable to this day," Hurd tells me. "Way more unites us than divides us. The American people want to see us be able to disagree without being disagreeable."
O'Rourke notes that the best memories of the trip weren't necessarily when the two spoke about politics – trade, Russia, healthcare or immigration – it was the personal moments. They swapped stories about their first girlfriends and their taste in music; how they learned to drive and what kind of food they liked.
"It's the kind of civil conversations that are so unusual today between Democrats and Republicans because they just aren't happening," O'Rourke says. "And I think that's what we all in this country are missing. Just the dignity and the decency and the courtesy of hearing each other out and being civil to one another."
Both congressmen have incorporated this language of bipartisanship and togetherness into their politics and are using it in their 2018 political campaigns. It's a bit of an irony, because politics – at least the way it works in Texas, the way the game is played throughout the US – is trying to tear them apart.
Hurd faces an uphill fight to win re-election in a Texas congressional district that increasingly tilts to the left. Two years ago, he won there by only 1.3%, while Democratic presidential candidate Hillary Clinton beat Donald Trump by four points. It tops the list of pick-up targets for Democrats hoping to win the 23 additional seats necessary to take control of the US House of Representatives.
O'Rourke, meanwhile, has higher ambitions. He is the Democratic nominee to run against Republican incumbent Ted Cruz for one of Texas' two US Senate seats. He faces even longer odds than Hurd, as no Democrat has won a statewide race in conservative Texas in more than two decades.
It's hard to envision a scenario where Hurd and O'Rourke both head back to Congress in January. Based on special election results, generic congressional ballot polls and historical trends, Democrats are in for a successful mid-term election. A wave is on the horizon – and O'Rourke and Hurd sit on either end of it.
If it's a cataclysmic electoral event, O'Rourke could beat Cruz and be swept into the Senate. In such a case, Hurd would almost certainly go down to defeat. If November is an electoral ripple instead of a tide, and Hurd prevails, it's next to impossible to envision an outcome where O'Rourke also winds up on top.
One scenario ends with Republicans maintaining a hold on Congress and two more years of unified party reign under President Donald Trump. The other could lead to Democrats in power in the House and the Senate, and a chastened president facing new scrutiny from resurgent political opponents.
This is a battle that will play out in contests across the US, but the struggle in Texas – the struggles of Beto O'Rourke and Will Hurd – illustrate the larger conflict.

'Beers with Beto'
It's a scorching mid-March afternoon in Austin, Texas, and O'Rourke is giving a speech and answering audience questions at Scholz Garten, a long-time watering hole for politicians and dealmakers near the state capitol building.
The 45-year-old congressman stands on stage, his sleeves rolled up and sweat beading on his forehead, as he switches seamlessly between English and Spanish.
The crowd chants "Beto! Beto!" – the Hispanic diminutive for Robert, O'Rourke's given first name, that he has gone by since he was a child.
Just a few days earlier the descendent of Irish immigrants who grew up in the US-Mexico border-town melange of El Paso easily won his primary for the Democratic Senate nomination. Already his Republican opponent, Cruz, has launched a blistering attack against him, accusing him of being a big-government socialist who wants open borders, higher taxes and gun confiscation.
On stage at Scholz, however, O'Rourke doesn't even mention his opponent. Instead, there's more talk about bringing the state together.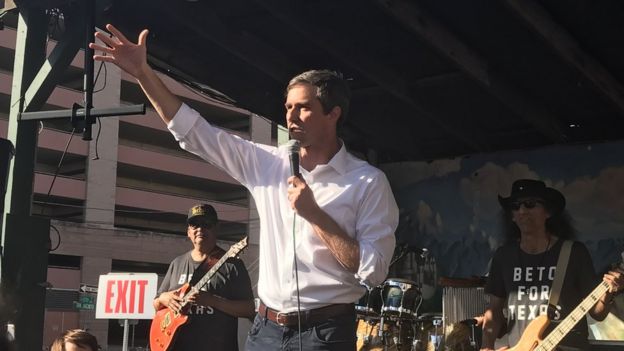 "Wherever you are, you're one of us," he says after rattling off a list of towns in Texas, large and small. "All 28 million of us. Human beings, Americans, Texans before we're Republicans before we're Democrats before we're independents. We're going to do this together."
It's not a bad rhetorical twist, given the strength of the Republican Party in the state. If O'Rourke is going to win, he'll have to do one of two things – either bring people to the polls who have never voted before or convince disaffected Republicans to give him a try. O'Rourke is trying a little of both.
The candidate also takes some shots at Trump who, thanks to his immigration and anti-trade stances, isn't particularly popular in the state.
More than that, however, O'Rourke is running as a reform candidate. He has turned down all corporate political action committee (PAC) donations, eschewed pollsters and high-paid campaign consultants, and is relying on small donations to finance his bid in a state with some of the largest media markets in the US.
More from Anthony:
O'Rourke rallies and "town hall" forums are rollicking affairs. There's often music – the Scholz warm-up band was Tejano rocker Little Joe and La Familia – and adult libations. Some events are billed as "beers with Beto", where attendees receive a drink ticket in exchange for a small donation to the campaign.
O'Rourke himself is a former punk rocker who cut a few albums and toured the US as the bass guitarist in the band Foss. He's still got a bit of that rocker edge, sprinkling some choice obscenities into his speeches and even media interviews.
He's pledged to campaign in every one of the 254 counties in the largest state in the contiguous US – roughly the size of Germany – and has visited 226 so far. Liberal Austin is friendly territory, but O'Rourke says his campaign message is the same no matter the audience. The important thing, he says, is showing up and listening.
"He's going to areas that are deeply, deeply Republican and trying to talk and relate to people," says Taylor Preston, a graphics designer who attended the O'Rourke rally. "He might not sway them to vote for him, but he's listening to them and he hears them – and that's the way that politics should be. Ted Cruz is not coming to Austin to listen to us or hear us."

O'Rourke's opposite
O'Rourke is, in many ways, a mirror image of his Republican opponent Cruz – the son of a Cuban immigrant who opted for an Anglicised name, Ted, instead of his given one, Rafael. Where O'Rourke has emotion, the Princeton- and Harvard-educated Cruz has the methodical manner of an Ivy League corporate lawyer.
Where O'Rourke is socially liberal (he supports legalised marijuana, gay marriage and abortion rights), Cruz campaigns as an evangelical conservative. Where O'Rourke has a natural charisma, Cruz – while he has a devoted following – can seem more ill at ease among the crowds.
Cruz was also a decided long-shot when he won his Senate seat in 2012, beating a better-funded, better-known Republican in the primaries. Since then, however, he's become a political juggernaut – making a name for himself as a conservative thorn in the side of his party's congressional leadership and building a national fund-raising network that fuelled him to a second-place finish behind Trump in the 2016 Republican presidential nomination race.
Although O'Rourke shocked many veteran political hands when he announced he raised $6.7m in small donations over the first three months of 2018, there's little doubt that Cruz – who has brought in more than $17m since 2013 – will enter the autumn contest against the Democrat with a financial and organisational advantage.