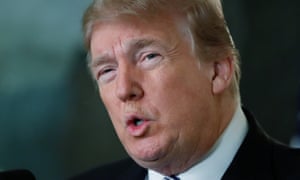 Donald Trump said on Tuesday he will deploy the US military to guard the border with Mexico, adding: "That's a big step."
The president was speaking to reporters at the White House, around a meeting with leaders of Baltic countries. Administration officials had earlier responded to the president's continued Twitter offensive on the subject of immigration by telling media they were crafting a new legislative package aimed merely at closing immigration "loopholes".
"We are going to be guarding our border with our military," Trump said. "That's a big step.
"We cannot have people flowing into our country illegally, disappearing, and by the way never showing up for court."
At a subsequent press conference, Trump said: "We are preparing for the military to secure our border between Mexico and the United States. We have a meeting on it in a little while with [defense secretary] Gen Mattis and everybody and I think its something we have to do."
Earlier, Trump had resumed a Twitter offensive on immigration begun on Sunday.
"The big Caravan of People from Honduras, now coming across Mexico and heading to our 'Weak Laws' Border, had better be stopped before it gets there," he wrote. "Cash cow NAFTA is in play, as is foreign aid to Honduras and the countries that allow this to happen. Congress MUST ACT NOW!"
Trump also tweeted about "caravans" on Sunday and Monday, while declaring protections for so-called Dreamer migrants "dead"; accusing Democrats of allowing "open borders, drugs and crime"; and warning Mexico to halt the passage of immigrants or risk US abandonment of the North American Free Trade Agreement (Nafta).
"Nafta has been a terrible deal for the United States," Trump told reporters on Tuesday, adding that a renegotiated deal would still be good for Mexico.
Trump's tweets about migrant "caravans" followed a Fox & Friends report on Sunday that featured the leader of the border patrol agents' union. About 1,100 migrants, many from Honduras, have been marching along roadsides and train tracks in the southern Mexican state of Oaxaca.
Such "Stations of the Cross" caravans have been held in southern Mexico for at least the last five years. They began as short processions of migrants, some dressed in biblical garb and carrying crosses, as an Easter-season protest.
Individuals often try to reach the US border but usually not as part of caravans, which typically do not proceed much further north than the Gulf coast state of Veracruz. The current march was…