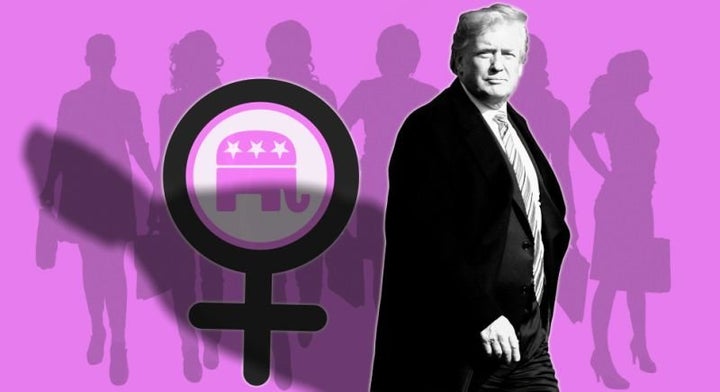 Meghan Milloy's mission is to get more Republican women in office. As co-founder and executive director of Republican Women for Progress, she believes "Democracy works better when it represents everyone," and to her that means gender parity in both parties.
But while it's her job to recruit, train and fundraise for female Republican candidates she finds herself telling many women to not run — at least not this year.
"It's a Catch-22 for us," she explains. "A lot of good moderate Republican women who want to run for office, our advice is 'You're a good candidate, you would probably win in any other year, let's wait'".
Female Republican candidates are having a harder time than usual in 2018. With all the talk of the surge in women seeking elected office this year, and of all the benefits of being a woman candidate in the Age of Trump, what is less often noted is that nearly all that energy and advantage seems to be on one side of the aisle.
"It's a tough year to be a Republican woman," agrees Anne Moses, who founded the non-partisan group Ignite eight years ago to educate high school and college women to become the next generation of political leaders. "It's always been hard, but this year all the reasons it's been tough make it even tougher."

According to the Center for American Women in Politics, the number of Democratic women running for House seats this year increased 146 percent over 2016 (to 351), while the number of Republican women running for the House increased just 35 percent (to 99); on the other side of the Capitol there are only 14 Republican women running for Senate compared to 27 Democratic women.
The non-partisan group VoteRunLead has seen a three-fold increase in the number of women completing their candidate training program last year — from just over 3000 to just under 10,000 – but the proportion of Republicans has shrunk from 1 in 5 to 1 in 9, according to Erin Vilardi, the group's founder and CEO.
In part this is because there have always been fewer Republican women in high office than Democratic women. Although Republicans are the majority in Congress, three quarters of the 104 women in the House are Democrats. This is the result of several factors, chief among them the historical tendency of women to identify as Democrats and the more robust recruitment pipeline for Democratic women, all of which are even more pronounced this year than previously. And the reason for that, candidates and strategists say, is the reason for so many other phenomena in politics at the moment – Donald Trump.
"You either run as pro-Trump or anti-Trump," Vilardi says. "There's no other dynamic now. Women are expected to have a stand on Trump, on #MeToo, and men aren't even asked the question. Republican women have a harder time with that question and the consequences are greater for them whichever their answer."
Kelly Dittmar, a scholar with the Center for American Women and Politics at Rutgers agrees. "The reason it's particularly challenging for Republican women is there is an expectation put on all women that they will call out and reject some of the more misogynistic behavior and rhetoric that this president has put forth," she says. "That leave less room for nuance, saying 'I'm not with him on this, but I am with him on something else.' Whether it's fair or not, voters are not necessarily looking to men to specifically answer on those issues."

Jenifer Sarver learned that first hand. She was one of 18 candidates for the Republican nomination in Texas's 21st congressional district, a seat that opened when the incumbent retired. Texas has not sent a freshman woman to Congress in 22 years, "meaning an entire generation of young Texans has never seen a woman elected" to that job, so while her gender got her a bit of attention, not all of it was good.
She was regularly asked "who are you working for" at candidate gatherings, and when she answered 'I'm the candidate' "It was…