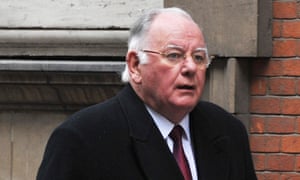 Michael Martin, the former Commons Speaker, became the latest senior figure to speak out against antisemitism in Labour on Sunday when he called for a special one-day conference to address the problem.
In a rare intervention in party politics for someone who had to quit the party whip when he became Speaker, Lord Martin said he was "appalled" by what was happening in Labour and that failure to tackle antisemitism could cost it the next election.
Stressing that he was not criticising Jeremy Corbyn personally for the problem, the former Labour MP, who now sits on the crossbenches in the Lords as Lord Martin of Springburn, said a special conference would allow party members to show how strongly they were opposed to antisemitism.
Martin's intervention came as Labour confirmed that Corbyn has suspended his personal Facebook account. Party sources said it was administratively simpler for Corbyn to have just one Facebook account – he has retained his official one –although the move came as the party faced fresh criticism over senior officials belonging to Facebook groups where antisemitic messages were posted.
In an interview with the Guardian, Martin said that he had decided to speak out because ill health meant he could not attend the protest organised by Jewish leaders outside parliament last Monday, saying Labour should take antisemitism more seriously.
"You recall the saying, 'evil happens when good men do nothing'. I have not been attending parliament because I'm on sick leave, but if I had been there on Monday last week, I would have joined the protest," he said.
"I don't want anyone ever coming back to me and saying, 'Michael, you said nothing about antisemitism.'"
Martin said he believed antisemitism was a genuine problem within Labour and he rejected the argument that those raising concerns about it were only doing so to attack Corbyn.
"If you ran a restaurant, and it was dirty…