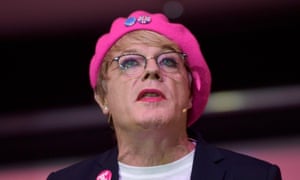 The comedian and activist Eddie Izzard has marked his arrival on Labour's ruling national executive committee by saying the "stain of antisemitism" present among "a minority" of members has to be removed.
He said Labour had to "make amends and repair the damage with the Jewish community", in line with the commitment given by Jeremy Corbyn, the party leader, to tackle antisemitism.
Izzard was promoted to the NEC after the resignation of Christine Shawcroft on Saturday night. Shawcroft, a Corbyn ally, had been under pressure to quit since it emerged she had opposed the suspension of a Labour councillor accused of Holocaust denial. Izzard took her place as the runner-up in the NEC elections.
He spoke out as the party dismissed the implications of a Sunday Times investigation that found 12 officials working for Corbyn or John McDonnell, the shadow chancellor, were members of Facebook groups that routinely featured anti-Jewish, violent or abusive messages.
Izzard ran for election to the NEC with the support of Labour centrists, and the resignation of Shawcroft – which was initially resisted by the leadership – will marginally weaken Corbyn's majority on the body that takes key decisions about party management.
However, Izzard stressed his support for Corbyn, saying: "We must unite our party around the platform of hope that Jeremy Corbyn has built so that we can kick out this terrible Tory government and build a Britain for the many, not the few."
Commenting on the flurry of antisemitism allegations that have engulfed…