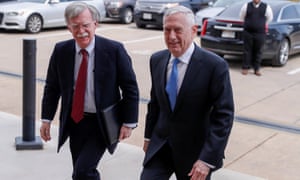 The Republican senator Lindsey Graham said on Sunday he was glad John Bolton will be Donald Trump's national security adviser going into talks with North Korea, because of his "very healthy skepticism".
Bolton is a Bush-era United Nations ambassador and noted hawk who has advocated military strikes as the best way to stop North Korea developing a nuclear weapon that can reach the US mainland.
In February, he wrote an op-ed for the Wall Street Journal in which he set out "the legal case for striking North Korea first".
Bolton will replace Lt Gen HR McMaster – Trump's second national security adviser after the resignation of another general, Michael Flynn – on 9 April.
News of Bolton's appointment was greeted by widespread alarm. One nuclear weapons expert told the Guardian Bolton was "genuinely one of the most extreme, irresponsible, and dangerous voices in the country".
A US-North Korean summit is slated for May. Hopes have been raised that Kim Jong-un may discuss measures to reduce the threat of war, possibly in exchange for security guarantees and an easing of sanctions that have…