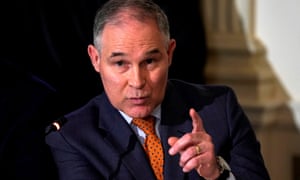 Environmental Protection Agency administrator Scott Pruitt is under increasing pressure over a rental arrangement he had with a leading energy sector lobbyist.
Leading opposition figures went on the offensive on Sunday, the Democratic Alabama senator Doug Jones saying Pruitt was in "real trouble" and "may be on his way out" over the deal, which was first reported by ABC, Bloomberg and the Associated Press.
The Vermont independent Bernie Sanders said the former attorney general of Oklahoma was "nothing more than a front man for the fossil fuel industry" and should appear before the Senate environment committee.
Pruitt was already one of a number of Trump appointees dogged by controversy over the use of public money for travel and other expenses. Nonetheless, as a professed climate science skeptic he has thrived in the Trump administration, slashing environmental regulations often established under Barack Obama.
It has been reported that Pruitt covets the post of attorney general should Jeff Sessions, out of favour over his recusal from the investigation into Russian election meddling and potential collusion between Trump aides and Moscow, become another cabinet member to be fired.
Over about six months in 2017, the AP reported this week, Pruitt paid $50 a night to stay in a Capitol Hill condominium in which three units belong to a corporation co-owned by the wife of J Steven Hart, chair and chief executive of lobbying firm Williams and Jensen.