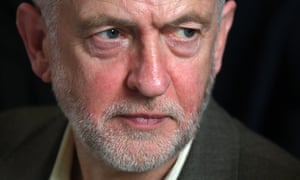 Jeremy Corbyn has condemned the vilification and abuse of Labour MPs who attended Monday night's demonstration against antisemitism in the party.
As leaders of the Jewish organisations that staged the protest told him that they would not meet him until he intervened to halt the attacks on social media, Corbyn said he was profoundly concerned by any abuse.
"People have the right to speak out and the right to demonstrate," he told the Jewish News in his first ever interview with a Jewish newspaper. "I will not tolerate abuse of people for their beliefs."
"Any abuse that's done is not done in my name," he added.
He also rejected the idea – put forward by a rival demonstration by the Jewish Voice for Labour on Monday – that the reason for the main protest was to smear Corbyn himself.
"Of course it's not a smear, it's perfectly reasonable to raise any question about one's public profile activities," he said. "I don't see that as a smear."
But his remarks failed to silence his critics. "It's massively underwhelming," Richard Ferrer, the editor of the Jewish News said. "He's squandered a wonderful opportunity to speak to the Jewish community in a week when they needed it most."
In the interview, Corbyn was challenged repeatedly to condemn the way MPs who attended the protest have been attacked. He responded that at its best "social media is the most wonderful of communication, at its worst it has a multiplier effect of the nastiest and most negative comments possible".
He defended the Jewish MP Luciana Berger, who had first revived the controversy about the antisemitic east London mural and who has been a particular target.
"Luciana has suffered terrible abuse and I support her … it's just not acceptable," he said. "She should not be abused."
He revealed that an email was being sent to all party members overnight, repeating the message of the letter he sent to the leaders of the Board of Deputies and the Jewish Leadership Council on Monday.
He also defended David Lammy, the Tottenham MP who went to the protest to support Jewish constituents. He may now face a challenge from his constituency party. A Tottenham Labour…