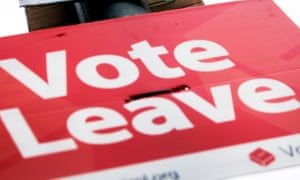 Members of the official Brexit campaign during the EU referendum may have committed criminal offences relating to overspending and collusion, according to lawyers advising whistleblowers who worked inside the organisation.
Clare Montgomery and Helen Mountfield, barristers from Matrix chambers, concluded in a formal opinion that there was a "prima facie case" that Vote Leave submitted an inaccurate spending return and colluded with BeLeave, which was aimed at students.
They were reviewing a dossier of evidence supplied by solicitors Bindmans, which contained examples of alleged collusion showing that Vote Leave and BeLeave were not separate and therefore that the leave campaign spent over the £7m legal limit set by the Electoral Commission.
MPs will debate the allegations in the Commons on Tuesday, after the Lib Dems secured an emergency debate. The dossier has also been passed to the Electoral Commission, which is responsible for election law.
Tamsin Allen, from Bindmans, told a press conference "that there is a strong suspicion that the campaigns were very closely linked and co-ordinated, in which case it may be that Vote Leave spent huge sums unlawfully and its declaration of expenses is incorrect".
Vote Leave formally declared it had spent £6.77m during the campaign in the summer of 2016, well below the £7m limit. That figure, however, excluded £625,000 donated by Vote Leave to BeLeave which was spent on the same digital marketing company, AggregateIQ, that Vote Leave used.
Vote Leave, whose leading members include Boris Johnson and Michael Gove, strongly denies any coordination with another campaign group during the referendum.
But Allen said there were grounds to suspect Dominic Cummings, Vote Leave's campaign director, "of having conspired to break the law" because he was among those engaged in discussions with BeLeave about their organisation, activity and funding.
Emails compiled by Bindmans appear to show that Vote Leave assisted in the creation of BeLeave's branding and that there was constant communication between to the two groups, who were based in the…