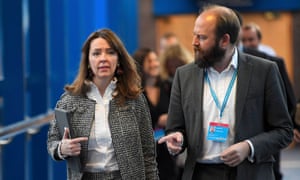 Spend some years on the Westminster beat, and you'll clock up hundreds of hours chatting to the Bens, Tims and Toms in the ranks of special advisers. They're the spectral presences of politics, honing their bosses' ideas and messages, guarding the turf of their masters from encroachment by rivals.
How male-dominated the ranks of ministerial advisers are is hardly a surprise, but the raw figures are more appalling than I realised. Only a quarter of spads (special advisers) on the current list are women, and a mere 15% in Downing Street. The latter figure is an embarrassment for a prime minister who has said she wants more workplace equality for women and has a tight-knit inner circle, in which the most senior woman (JoJo Penn) is only the deputy chief of staff.
Counting the numbers of female MPs and ministers tells only part of the story of women's roles in politics. Special advisers matter, because they reflect and shape their bosses' priorities. The intimacy of their relationship (they are personal appointments with strong loyalty to the political aims of their minister), means that they can drive a particular policy agenda or downplay ideas they don't approve of – so any mention of something being a "second term issue" means it is a dodo. They're also lightning rods for feuds – Tony Blair's team routinely snubbed Ed Balls, when he was economic adviser to Gordon Brown, a proxy show of underlying hostilities.
Spads are gatekeepers for ministers' reputations. They have substantial influence over how their bosses are perceived – and the best are adept at pouring oil on troubled waters. I remember a particularly punchy encounter with Charles Clarke when he was home secretary, which was assuaged by his astute (female) spad intervening to leaven…