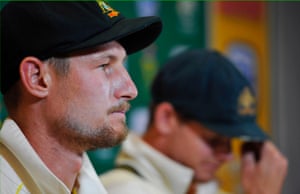 Australian cricketer Cameron Bancroft has been caught on video shoving some yellow sticky tape into his underpants. Fortunately – or unfortunately – there was a cricket match in play at the time.
The image of him shoving sticky tape into his underpants was broadcast live to the crowd at the Newlands ground in South Africa, and they booed.
"I panicked quite a lot," said Bancroft.
Understandably. While only Bancroft's hands touched his underpants, he did not sticky tape alone. Indeed, a veritable sticky tape conspiracy has unspooled in South Africa, where Australia's national cricket team are currently on tour. The tape was granulated with dirt, creating a sandpaper-like surface that a non-panicking person sensibly keeps far away from their underpants, but which an unscrupulous "win at all costs" team ethic guided towards the surface of a cricket ball held in Bancroft's hand.
Bancroft – known as "Bangers" – admits: "We had a discussion during the break … I saw an opportunity … to change the conditions of the ball." The aim was to get "an unresponsive ball to swing" or to damage the ball to the point that it would have to be replaced. The team captain, Steve Smith, has confessed he was in on the plan, concocted to provide the Australians an advantage.
Outrage has erupted. The Australian newspaper has described it as an act of "shameful ignominy". Fairfax belted the hyperbole for six: "This is cricket's #MeToo moment", Malcolm Knox claimed, comparing Smith also to a drink-driver, a laughing stock, a pustulant infection and the Bjelke-Petersen era of Queensland policing. In the same piece, no less.