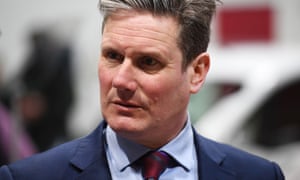 Labour is seeking to build cross-party consensus in parliament behind plans that will enshrine into law a promise not to have any infrastructure, customs posts or cameras on the border of Northern Ireland and the Republic after Brexit.
The plan, which will be announced on Sunday by shadow Brexit secretary Keir Starmer, would force the government to honour what is to date only a political commitment to avoid a hard border solution, once the UK leaves the EU in a year's time.
In an interview with the Observer, Starmer said: "At the end of last year, the EU and UK government made a political agreement that there would be no hard border in Northern Ireland.
"However, the content of the withdrawal agreement is not legally binding. It is a political document subject to negotiation and will not have legal force unless and until it is ratified – which is by no means a done deal."
The move represents another headache for Theresa May as the withdrawal bill and other Brexit legislation struggle to make their way through parliament.
Labour's attempt to work with other parties reflects a genuine fear that negotiations on Brexit could founder on the border issues, leaving the future of cross-border trade in doubt. Any prospect of a hard border is also likely to have a politically destabilising effect.
The government is also facing defeats in the Lords, and then knife-edge battles…