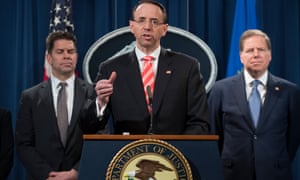 The Trump administration has announced criminal charges and sanctions against nine Iranians accused of participating in a government-sponsored hacking scheme to steal sensitive information from hundreds of universities, private companies and US government agencies.
The nine defendants, accused of working at the behest of the Iranian government-tied Islamic Revolutionary Guard Corps, hacked the computer systems of about 320 universities in the United States and abroad to steal expensive research that was then used or sold for profit, prosecutors said.
The hackers are also accused of breaking into the networks of dozens of government organizations, such as the Department of Labor and Federal Energy Regulatory Commission, and companies, including law firms and biotechnology corporations.
The Department of Justice said the hackers were affiliated with an Iranian company called…