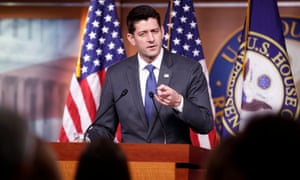 The Senate is poised to vote on a sweeping $1.3tn spending bill just hours after the 2,232-page text was released to lawmakers, as Republican leaders rushed to avert a third government shutdown in as many months.
The bill, which passed the House 256-167 on Thursday, funds government agencies through September, the end of the fiscal year, and delivers on a key promise by Donald Trump – to increase military funding – while bypassing much of his immigration agenda.
It does not include protections for young migrants known as Dreamers and only takes incremental steps to address gun violence.
The House vote was not divided along party lines: 145 Republicans and 111 Democrats voted yes while 90 Republicans and 77 Democrats voted no.
The bill faced opposition from the fiscal hawks of the conservative House Freedom Caucus. Vice-chair Jim Jordan summarized his members' view in an interview with Fox News: "This may be the worst bill I have seen in my time in Congress and the worst bill our leadership has ever allowed to come to the floor."
Members of the Congressional Hispanic Caucus, meanwhile, said it would be "indefensible" to pass a spending bill that did not protect Dreamers.
In a press conference before the House vote, Speaker Paul Ryan said negotiators had been working for months and argued that the bill contained no "big surprises".
"These things have been long works in progress," he said. "The finishing touches came out this week and we have a hard deadline we're working up against."
The Senate now has until Friday night to avoid a partial shutdown of the federal government. To achieve this, it will need to waive procedural rules on debate and allow votes to occur before the midnight deadline.
At least two senators have suggested they may delay proceedings, thereby forcing a brief government shutdown as Senator Rand Paul did in February.
"Shame, shame," the Kentucky Republican tweeted. "A pox on both Houses – and…