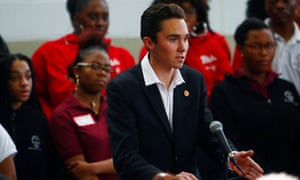 The students who have shaped a national debate over gun laws have warned the US Congress to take action or risk "killing the future of America".
As activists prepare to take to the streets in Washington and elsewhere on Saturday for the March for Our Lives, students from the Marjory Stoneman Douglas high school urged lawmakers on Capitol Hill to heed their calls and enact stricter gun laws.
"We're not trying to take away your guns. We're trying to take back our lives," said David Hogg, a survivor of the 14 February shooting in Parkland, Florida.
"It's not a Democrat problem. It's not a Republican problem. It's an American problem."
The Parkland shooting, which left 17 people dead, kicked off a wave of activism that is expected to gain momentum in Saturday's march. As many as 500,000 protesters are expected to march in Washington to demand action, with as many as 800 parallel events organized nationwide and around the world.
The last major debate on gun laws in Congress occurred in the aftermath of the 2012 Sandy Hook elementary school massacre in Newtown, Connecticut. But despite a national outcry over the shooting, which left 20 children and six educators dead, the US Senate failed to expand background checks after a Republican-led filibuster killed a bipartisan…