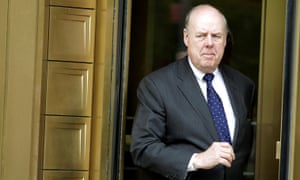 John Dowd, Donald Trump's lead lawyer in the Mueller investigation into Russian election interference and alleged links between Trump aides and Moscow, resigned his role on Thursday while protesting his "love" for the president.
In an email to the Guardian, Dowd confirmed his departure and said: "I love the president and wish him well."
The 77-year-old left Trump's legal team days after the hiring of Joseph DiGenova, a cable news commentator and former US attorney who has claimed the Mueller investigation is an attempt to frame the president, carried out by the FBI and Department of Justice.
The shake-up comes with special counsel Robert Mueller reportedly closing in on an interview with Trump and less than two weeks after the president insisted on Twitter he was "VERY happy" with his legal team and said his lawyers were "doing a great job".
Dowd attracted unwanted attention on Saturday, in the aftermath of the firing on Friday of the former deputy FBI director Andrew McCabe. As Trump saluted McCabe's firing as "a great day for democracy", Dowd told the Daily Beast he hoped Mueller's investigation would now be shut down.
In an email, Dowd said "I pray" that the deputy attorney general, Rod Rosenstein, who oversees Mueller, "will follow the brilliant and courageous example of the FBI Office…