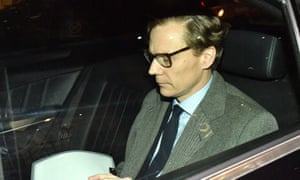 Alexander Nix, the CEO of Cambridge Analytica, the firm at the heart of the data-mining scandal, has been suspended.
The company said in a statement: "The board of Cambridge Analytica has announced today that it has suspended CEO Alexander Nix with immediate effect, pending a full, independent investigation.
"In the view of the board, Mr Nix's recent comments secretly recorded by Channel 4 and other allegations do not represent the values or operations of the firm and his suspension reflects the seriousness with which we view this violation."
Nix was seen leaving Cambridge Analytica's office in central London at 6.30pm through a fire exit door and did not answer questions as he got into a waiting black Mercedes.
In a series of secret recordings broadcast on Channel…