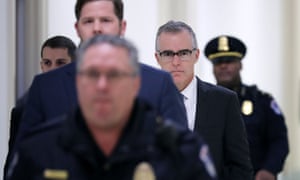 Donald Trump cast doubt on memos of conversations between him and the fired FBI deputy director that have reportedly been handed to Robert Mueller, claiming Andrew McCabe did not take notes during their meetings.
Seeing Trump's offensive against McCabe as an attack on Mueller himself, several senior Republicans rallied to support the former FBI director, who is investigating Russian election interference and links between Trump aides and Moscow.
"Spent very little time with Andrew McCabe," Trump tweeted on Sunday morning in a volley of angry messages, "but he never took notes when he was with me. I don't believe he made memos except to help his own agenda, probably at a later date. Same with lying James Comey. Can we call them Fake Memos?"
McCabe was fired on Friday night, two days short of qualifying for his pension and officially for allowing a leak to the press and failing to be candid about it under oath.
Trump also targeted Comey, the FBI director he fired last May, a move that led to the appointment of Mueller. Comey has also said he wrote memos concerning interactions with Trump.
Trump tweeted: "Wow, watch Comey lie under oath to Senator G when asked 'have you ever been an anonymous source … or known someone else to be an anonymous source…?' He said strongly 'never, no.' He lied as shown clearly on @foxandfriends."
Trump was evidently watching a Fox News show which played an exchange from a 3 May 2017 congressional hearing in which Comey was questioned by Republican senator Chuck Grassley and denied leaking information about FBI investigations.
Speculation over a potential move against Mueller grew on Saturday when Trump's personal lawyer, John Dowd, said he hoped the firing of McCabe would prompt Rod Rosenstein, the deputy attorney general, to shut down the Russia inquiry.
Dowd first claimed to have been speaking for the president, then told outlets including the Guardian he was not. He then told Axios Trump "didn't have any problem" with his statement.
On Sunday Trey Gowdy, the Republican chair of the House oversight committee, used an appearance on Fox News Sunday to advise: "If you have an innocent client, Mr Dowd, act like it."
Jeff Flake, a Republican Arizona senator and fierce critic of the president, told CNN's State of the Union Trump "seems to be building towards" firing Mueller, adding: "I just hope it doesn't go there, it cannot – we cannot in Congress accept that. I would expect pushback in the next few days, urging Trump not to go there."
Former New…