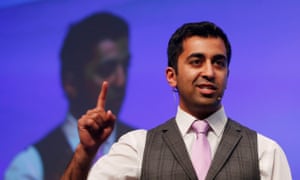 Scotland's transport minister, Humza Yousaf, has demanded that a councillor who made an Islamophobic comment about him be expelled from the Scottish Labour party.
Jim Dempster, a Labour member of Dumfries and Galloway council, told transport officials at a meeting on Tuesday that "no one would have seen [Yousaf] under his burqa".
This is the party's third row over racism since the beginning of the year.
Dempster has since written to Yousaf, Scotland's first Muslim cabinet minister, to apologise and has been suspended by the Scottish Labour party pending an investigation.
But Yousaf has called for him to resign as a councillor, adding that "only expulsion from Scottish Labour will do".
Yousaf told the Guardian that, despite the support he had received from friends, colleagues and strangers since the incident, he remained angry. "I am angrier than I've ever been about abuse of this nature, and I've not been able to shake it off. It was the brazen nature of the remarks, which were made in front of my officials and members of the public."
He also warned that diversity training, which Dempster has asked to attend, "shouldn't be seen as a punishment". "It's now being used by certain politicians as a way of absolving themselves, but the obvious stuff of 'don't be racist' isn't even included in that training."
In his…