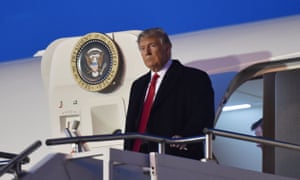 Donald Trump will propose to arm school staff and raise the minimum age to purchase certain firearms to 21 in a plan the administration will release on Sunday, a White House spokesman said.
The proposal on age limits for gun purchases will put the president on a collision course with the National Rifle Association, which endorsed him and donated to his White House campaign.
Sunday's announcement came two days after the NRA filed a lawsuit against a measure signed into law by Florida's governor, Rick Scott, that included raising the age limit on buying a gun from 18 to 21.
The deputy White House press secretary, Raj Shah, told ABC's This Week Trump was also likely to back a bipartisan Senate bill that Republican John Cornyn and Democrat Chris Murphy introduced to improve federal compliance with criminal background checks.
"There's going to be a series of proposals," Shah said. "Some will be legislative, some will be administrative and some will be recommendations for states as well as a taskforce to study this issue in more depth and make more additional policy recommendations. So it's…