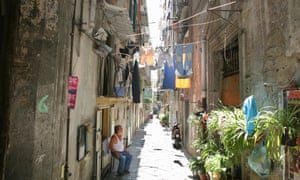 Few people in Rione Luzzatti are aware of how intriguing they and their rundown neighbourhood have become thanks to the phenomenal success of Elena Ferrante's Neapolitan novels. Located to the east of the Naples train station, the district is believed to have been the setting for the childhood home of the two protagonists, Elena and Lina. "People around here don't really read books," says Pascale Edoardo.
Plagued by crime and high unemployment, his fellow Neapolitans dismiss Rione Luzzati as a hostile no-go zone. Ferrante fans are more likely to flock to the more salubrious areas of this complex yet fascinating southern Italian city that feature in the novels.
"We're a dormitory of Naples. Nobody comes here, there is nothing," Edoardo adds. "Only the centre has been made attractive for tourists."
Book culture may have passed them by, but Edoardo and his friend Sergio Amato are tuned in politically. Sitting outside a shop selling pet food, a rottweiler lounging on a cushion beside them, they explain why they voted for the insurgent Five Star Movement (M5S) in last Sunday's national election.
They were far from alone. In what has been depicted as one of the most striking political shifts in the history of the Italian republic, M5S became the biggest single party after taking 32% of the vote. Led by 31-year-old Luigi Di Maio, the party was founded less than a decade ago, but its strong performance was not unexpected.
What did surprise was the far-right League's victory within a coalition that included Silvio Berlusconi's centre-right Forza Italia and the smaller far-right Brothers of Italy. The group won the largest share of the vote – 37% – although on a personal level it was a dismal result for Berlusconi, who at 81 is desperate to stay in the game. Still, it was even more destructive for the centre-left Democratic party, which had its worst ever performance.
The election, which produced a hung parliament, exposed the country's cavernous economic divisions as much as its political ones: M5S triumphed in the impoverished south, while the rightwing coalition dominated in the wealthier north. But in Naples, considered the heart of southern protest movements, the anti-establishment shift began much earlier. Naples was among the first cities to embrace M5S when it was founded in 2009. That was partly because two of its young activists were local: Di Maio was born in Avellino but grew up in nearby Pomigliano d'Arco, while parliamentarian Roberto Fico is a Neapolitan. However, the first major rejection of traditional parties came in 2011, when Luigi de Magistris, a former prosecutor from populist group Italy of Values, became mayor after more than a decade of centre-left administrations. "In a way, de Magistris pre-empted this protest vote," said Mauro Calise, a politics professor at the University of Naples Federico II.