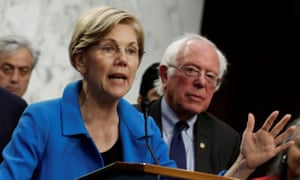 Elizabeth Warren has responded to Donald Trump's latest "Pocahontas" jibe by highlighting the problem of sexual violence against Native American women, a tactic she said she would pursue each time the president "threw out" such a "racial slur".
At a rally in Pennsylvania on Saturday night, Trump discussed the Massachusetts senator as a potential rival for the White House in 2020.
"If I don't win the election, [news] ratings are going to go so far down, they'll be out of business, every one of them," he said. "Can you imagine? Can you imagine covering Bernie [Sanders] or Pocahontas? How about that?"
Trump has long referred to Warren as "Pocahontas", even in front of decorated Navajo veterans in the Oval Office, in reference to controversy over her claim of Native American ancestry.
Appearing on CNN's State of the Union on Sunday, Warren said her "family story" was "deeply a part of me". She also said she was "not running for president in 2020".
Warren repeated her 2020 denial on NBC's Meet the Press and on Fox News Sunday, although on the former show she would not be drawn into making a pledge to serve her next six-year Senate term in full.
On…