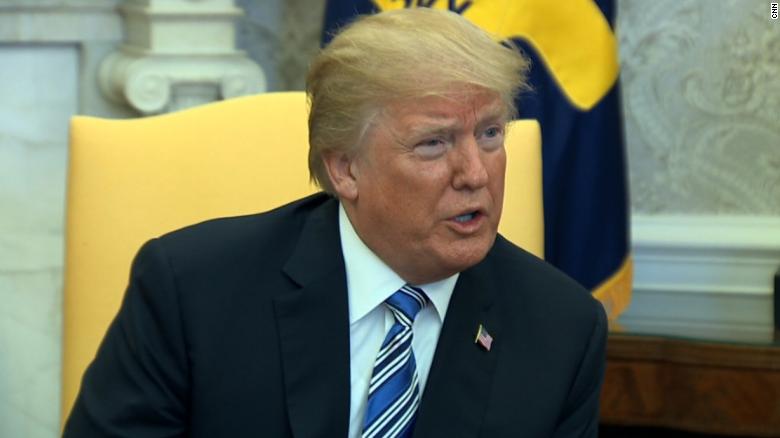 Washington (CNN)President Donald Trump's demand that new tariffs be slapped on steel and aluminum imports has spooked markets, prompted his chief economist's resignation, rattled major US allies and widened a rift with establishment Republicans.
None of that stopped Trump from moving forward with his plan Thursday to erect 25% and 10% tariffs on steel and aluminum imports respectively, as he signed two tariff proclamations at the White House on Thursday, surrounded by steel and aluminum workers.
"A strong steel and aluminum industry are vital to our national security — absolutely vital. Steel is steel, you don't have steel you don't have a country," Trump said Thursday, adding that foreign imports and dumping have led to "shuttered plants and mills" and the laying off of "millions of workers," overstating the job losses in those industries, which his own adviser put at under 100,000.
"This is not merely an economic disaster, but it's a security disaster we want to build our ships, we want to build our planes … with steel and aluminum from our country," Trump said. "We're finally taking action to correct this long overdue problem. Today I'm defending America's national security by placing tariffs on foreign imports of steel and aluminum."
But in a shift from recent plans, Trump will exempt Canada and Mexico from the tariffs and allow other US allies to petition for similar exemptions.
The NAFTA trading partners will be exempted while the three countries continue to renegotiate that free trade agreement and a senior administration official also cited the "security relationship" between the three countries as a rationale for their exemption.
Those exclusions are expected to quell some of the uproar, but could still set off a trade war between the US and several countries — a battle Trump insists the US can win even as some of his closest advisers worry the tariffs could hurt the growing American economy. But the prospect of additional country exclusions could also lead Trump to increase the tariff rate on other countries, a senior administration official warned.
Trump is imposing the tariffs using a rarely employed trade provision known as Section 232 of the Trade Expansion Act of 1962, claiming a national security rationale for protecting the domestic steel and aluminum industries. Anticipating attacks on that legal basis, a senior administration official insisted the rationale was "unassailable" and stressed that national security includes both national defense and economic security.
But the President also framed his decision along political lines on Thursday, just days before he heads to Pittsburgh — the heart of steel country — for a rally aimed at boosting a struggling Republican congressional campaign.
"I'm delivering on a promise I made during the campaign and a promise I've been making for a good part of my life," Trump said as he prepared to sign the tariff proclamations.
It's not clear what political effect the order would have in the Pennsylvania race. The Democratic candidate in the race supports Trump's tariff proposal.
The move is expected to be questioned and countered, and could further put the US at odds with the international community.
Coming on the same day that 11 US allies — but not the US — sign a landmark Asia-Pacific trade agreement, the move on tariffs only underscores Trump's embrace of the protectionist policies he believes helped him win the presidency.
In the US, Trump faced a stiff rebuke from trade groups representing retailers and manufacturers who are top consumers of steel and aluminum. He also faced continued…