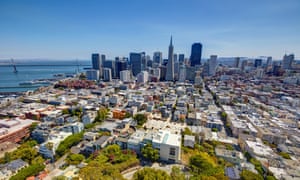 California's exposure to climate change has been laid bare with warnings that San Francisco faces a far worse threat from rising seas than previously thought, while the agricultural heart of the state will increasingly struggle to support crops such as peaches, walnuts and apricots as temperatures climb.
The findings, from two new scientific studies, come as California's neighboring west coast states Oregon and Washington have both faltered in their legislative attempts to address climate change and deliver a rebuke to Donald Trump's dismissal of the issue.
The problems faced by the progressive coastal bastions have been sobering on two fronts: not only is the western flank of the US experiencing the escalating consequences of climate change, but widespread Democratic dominance at state level has failed to enact ambitious policies to reduce greenhouse gas emissions.
"The states are struggling to fill the gap for the federal government on climate change," said Nives Dolsak, of the school of marine and environmental affairs at the University of Washington.
"In Washington, we are holding a very good policy hostage because it's not perfect. Inclusion and equity concerns means we are losing momentum and public support on climate change."
The quibbling comes as climate change tightens its grip on the west coast. San Francisco can lay claim to being one of the greenest cities in the US, through its embrace of clean energy, mandated recycling and banning of single-use plastic bags, yet it faces a steep challenge to avoid the ravages of sea level rise.
Researchers using satellite-based radar and GPS have discovered large areas of land beside the San Francisco bay is sinking, exacerbating the threat from sea level rise and storms. Places such as San Francisco airport, Foster City and Treasure Island are subsiding by as much as 10mm a year, doubling the area previously considered at risk of flooding by the end of the century, according to the Science Advances-published study.