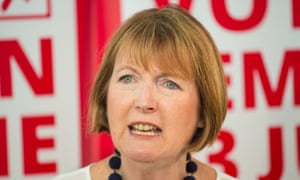 Harriet Harman has claimed that the arrival in parliament of a fresh generation of "Tory feminist" MPs alongside men with modern attitudes has the power to boost the women's rights movement.
The Labour MP, who has been parliament's leading feminist advocate for decades, said the changing nature of female Conservative politicians from the "doughty tweedy matrons" of the past to today's feminists had been critical. She claimed a newfound cooperation across party lines amounted to a dramatic shift and she welcomed the arrival of men who no longer thought of a woman's place as being in the home.
"They are the sons of the women's movement," she said of political colleagues who had spoken out in recent debates about making parliament more family friendly.
Speaking before International Women's Day on Thursday and a speech on Tuesday night about her experience as a female MP, Harman said: "The whole agenda for women in the House of Commons has changed, firstly because of the numbers – there are more than 200 female MPs now. But, secondly and critically, there has been a dramatic change in the nature of Conservative women MPs. We have now got feminists on the Tory…