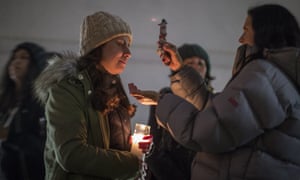 As we approach the 5 March date for expiration of the legal immigration status of so-called Dreamers – those who came to the US as children and now fall under Deferred Action for Childhood Arrivals status, or Daca – we as citizens of the original Indigenous Nations of this continent have been watching closely.
We have dealt with these issues ever since the first Europeans crossed the Atlantic and "discovered" lands you call the Americas, known to us for millennia as the Great Turtle Island or Abya Yala. Since the United States was founded on our lands in 1776, these policies and practices have had a devastating impact on the territories and rights of the Original Nations and our relatives from both north and the south of US borders.
For us, Daca is not an immigration crisis. It is a human rights crisis. And human rights cannot be deferred. Every day approximately 122 people lose Daca protection. This cruel policy immorally punishes and traumatizes innocent young people and their families.
As Indigenous Peoples, we know our history and we know our relatives. Many so-called "undocumented" people are in fact Indigenous Peoples, children of Original Nations with a millennial history of travel across the continent to trade and engage in ceremonial obligations at sacred sites of their traditional territories before the US existed.
The US-Mexico border is not an indigenous border. Similarly, to citizens of the Onondaga Nation – part of the Six Nation Haudenosaunee Confederacy, what you call the Iroquois – the US-Canadian border runs through traditional lands that we view as one inseparable nation.
Dividing families is something we cannot imagine doing to others, because we have been through this pain many times at the hands of the same government. That is why we as Indigenous Peoples support immediate passage of a "clean" Dream Act, and it should definitely not be linked to funding a…