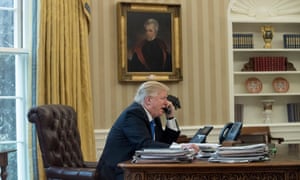 The White House backed away from Donald Trump's newfound support for gun control on Friday, only hours after the US president met with the National Rifle Association's top lobbyist in the Oval Office.
Press secretary Sarah Sanders told reporters on Friday morning that Trump told top NRA official Chris Cox "that he'll continue to support the second amendment, that's not something that he's backed away from. The background check system is something that he's still very much interested in improving."
She insisted, though, that this support did "not necessarily [mean] universal background checks" and also threw cold water on Trump's statements that he supported raising the age limit to buy an assault weapon to 21.
"Conceptually, he still supports raising the age to 21. But he also knows there's not a lot of broad support for that," she said.
Although Sanders may have been referring to support for the measure in Congress, a recent NPR/Ipsos poll showed 82% are in favor of raising the legal age to purchase a gun to 21.
Sanders's remarks come two days after the president held a televised meeting with lawmakers in which he said he supported increased background checks for gun buyers. Those statements seemed to have prompted an emergency White House meeting with the NRA on Thursday night.
Cox tweeted late on Thursday that he had met Trump and the vice-president, Mike Pence, and they "don't want gun control". They also "support strong due process", he added.