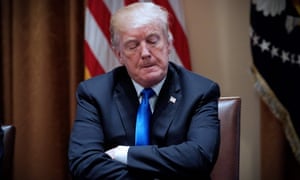 Donald Trump's embrace of gun control measures long opposed by the National Rifle Association and at odds with party orthodoxy, has at least one Republican senator hopeful that Congress can break decades of gridlock on the issue and pass consequential reform.
Senator Pat Toomey, a Republican of Pennsylvania and the author of a bill to expand background checks, said the president's support of a stronger background check measure could help convert Republicans who helped to twice block its passage.
During a televised meeting with lawmakers on Wednesday, Trump repeatedly endorsed legislation first introduced by Toomey and Senator Joe Manchin, a Democrat, after the Sandy Hook elementary school shooting in 2012, that would expand background checks to weapons purchased at gun shows and online.
"If the president embraces something like Manchin-Toomey, a bill that had broad bipartisan support but couldn't quite get to 60 votes, the president could really make the difference," Toomey said, appealing to Trump from the president's favorite morning show, Fox and Friends on Fox News.
Toomey admitted the bill still did not have enough support to pass the Senate, but said that could change with a serious lobbying effort by the president, who maintains strong support from the conservative voters most likely to oppose such legislation.
Also on Thursday, a bipartisan group of senators introduced legislation to ban bump stocks, an attachment that allows a semi-automatic rifles to mimic the rapid-fire speed of an automatic gun. Trump has said he plans to ban the devices by executive order.
However, despite immense public pressure, led by student survivors of the Parkland shooting in Florida, lawmakers on Capitol Hill remain far from a consensus.
On Thursday, a modest, bipartisan plan, sponsored…