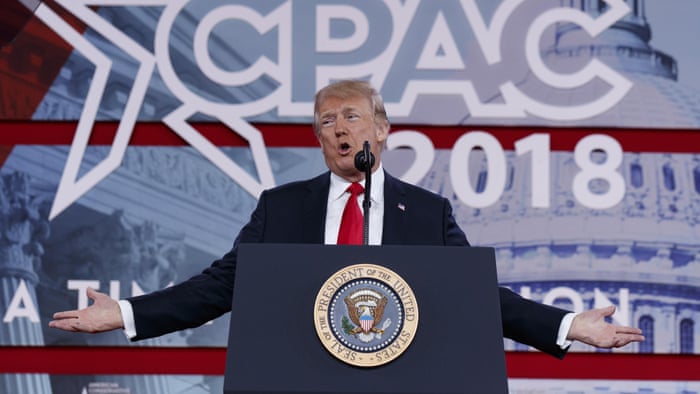 The invasion of the body snatchers is complete. Donald Trump has taken over the conservative movement and bent it to his will.
"Do you remember I started running and people would say, 'Are you sure he's a conservative?'" an exultant US president asked the Conservative Political Action Conference (CPAC) on Friday.
"I think now we've proved that I'm a conservative, right?"
Or perhaps more accurately, the conservatives gathered in the cavernous ballroom proved they are all Trumpians now. There were "Make America Great Again" caps, raucous chants of "Lock her up!" and "Build that wall!" and loud boos for the demons of the left. Old-school Republicans were thin on the ground, usurped by a crowd that included young and sometimes rowdy students.
How much has changed in two years of CPAC, the biggest annual gathering of grassroots conservatives, a Woodstock of the right. In 2016, with the presidential election on fire, Trump pulled out to avoid a potentially humiliating walkout. CPAC's official Twitter account posted: "Very disappointed @realDonaldTrump has decided at the last minute to drop out of #CPAC – his choice sends a clear message to conservatives."
But the billionaire businessman and reality TV celebrity went on to win the Republican nomination and then the presidency. CPAC 2017 was effectively a coronation, though still with a strong hint of danger and uncertainty in the air. The white supremacist Richard Spencer turned up outside the main auditorium and had to be ejected. Another white supremacist – in some eyes at least – Steve Bannon spoke from the stage.
This week, by contrast, the National Harbor in Maryland was relatively sedate and low key, as if Trumpism is a sweater that was at first ill-fitting but now hugs CPAC quite comfortably.
The spotlight was dominated a succession of administration members answering toothless questions. Speakers included Eric…