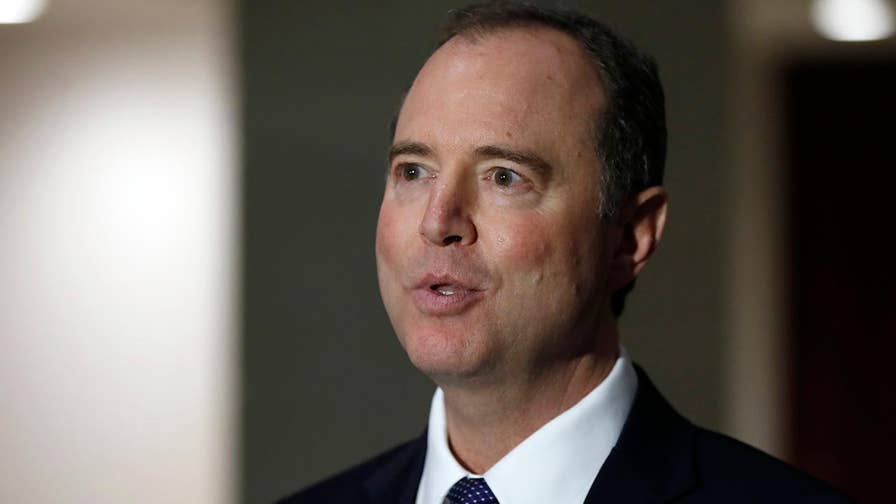 The House Intelligence Committee on Saturday released a long-anticipated Democratic rebuttal that attempts to dismantle claims made in a GOP memo alleging the government used improper surveillance tactics during the 2016 presidential campaign.
The rebuttal claims that officials at the FBI and Justice Department "did not abuse the Foreign Intelligence Surveillance Act (FISA) process, omit material information, or subvert this vital tool to spy on the Trump campaign."
The Democratic rebuttal backed the FBI and DOJ in its pursuit of the FISA warrant, saying that the agencies "would have been remiss in their duty to protect the country had they not sought a FISA warrant and repeated renewals to conduct temporary surveillance of Carter Page, someone the FBI assessed to be an agent of the Russian government."
They added that the DOJ met the "rigor, transparency, and evidentiary basis" needed to meet FISA's probable cause requirement.
The GOP memo, released in early February, asserted that the FBI and DOJ relied on a Democrat-funded anti-Trump dossier to ask the FISA court for a warrant to monitor Page, a one-time adviser to President Donald Trump. They also claimed that the agencies left out the DNC's funding of the dossier and the anti-Trump motivations of author Christopher Steele, a onetime British spy, in its request for a warrant.
The Democratic memo was voted out of committee earlier this month but a redrafting was ordered after the White House demanded that sensitive information be stripped out before the document be made public. The Justice Department and FBI claimed the initial draft would reveal information about sources and methods, ongoing investigations and other sensitive information.
President Trump tweeted following the rebuttal memo's release, calling it "a total political and legal BUST."
The Democrat memo response on government surveillance abuses is a total political and legal BUST. Just confirms all of the terrible things that were done. SO ILLEGAL!

— Donald J. Trump (@realDonaldTrump) February 24, 2018
He added: "Dem Memo: FBI did no disclose who the client were – the Clinton Campaign and the DNC. Wow!"
Dem Memo: FBI did not disclose who the clients were – the Clinton Campaign and the DNC. Wow!

— Donald J. Trump (@realDonaldTrump) February 24, 2018
Here are some other reactions to the memo:
White House
White House Press Secretary Sarah Sanders calls the rebuttal a "politically driven document" which "fails to answer serious concerns raised by the Majority's memorandum about the use of partisan opposition research from one candidate, loaded with uncorroborated allegations, as a basis to ask a court to approve surveillance…