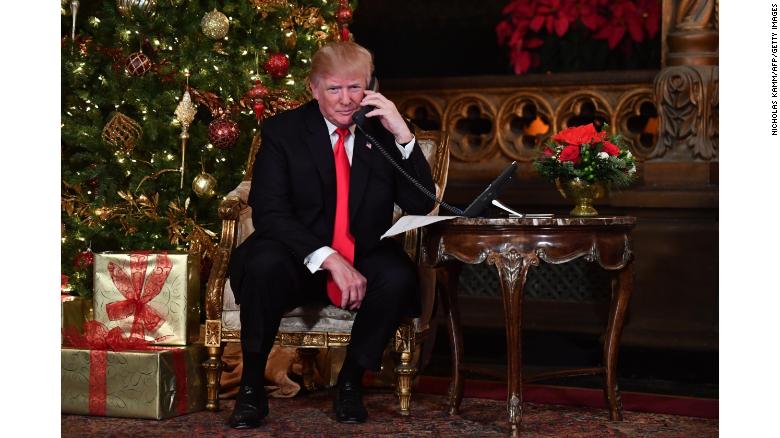 West Palm Beach, Florida (CNN)All was not calm and bright on President Donald Trump's Twitter feed this Christmas.
Trump, marking his first Christmas as President from his private club here, balanced the traditional presidential holiday tasks — teleconferencing with the troops, speaking with young kids looking for Santa Claus and attending a late-night church service — with the fire-breathing tweets that helped turn him from boisterous businessman to an unconventional commander in chief.
It was a characteristic end to an often tumultuous year, where the President regularly found himself exactly where he wanted to be: at the center of attention.
Trump celebrated the holiday with his family around him at Mar-a-Lago, the private estate that Trump has warmed to calling the "Winter White House." Joined by most of his children and grandchildren, along with first lady Melania Trump and her parents, the Trump brood sat at the center of the club's dining room on Sunday night, kept at arm's length with rope-and-stanchion around their tables.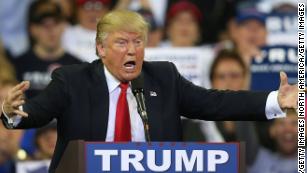 Feasting on turkey, beef tenderloin and creamy kale, Trump was said to be in good spirits and surrounded by the friends and informal advisers that make up the group of men and women who help steer the President from outside the White House.
Even in his comfort zone, though, the President's Twitter feed raged at familiar targets such as the FBI, the bureau's outgoing Deputy Director Andrew McCabe and the news media. In one retweet, he shared a user's image of him speaking on the phone that included what appeared to be a blood splat with the CNN logo in the center on the bottom of his shoe.
How can FBI Deputy Director Andrew McCabe, the man in charge, along with leakin' James Comey, of the Phony Hillary Clinton investigation (including her 33,000 illegally deleted emails) be given $700,000 for wife's campaign by Clinton Puppets during investigation?

— Donald J. Trump (@realDonaldTrump) December 23, 2017
The Stock Market is setting record after record and unemployment is at a 17 year low. So many things accomplished by the Trump Administration, perhaps more than any other President in first year. Sadly, will never be reported correctly by the Fake News Media!

— Donald J. Trump (@realDonaldTrump) December 23, 2017
Trump slammed McCabe for that fact that his wife, Dr. Jill McCabe, ran for Virginia state senate as a Democrat…