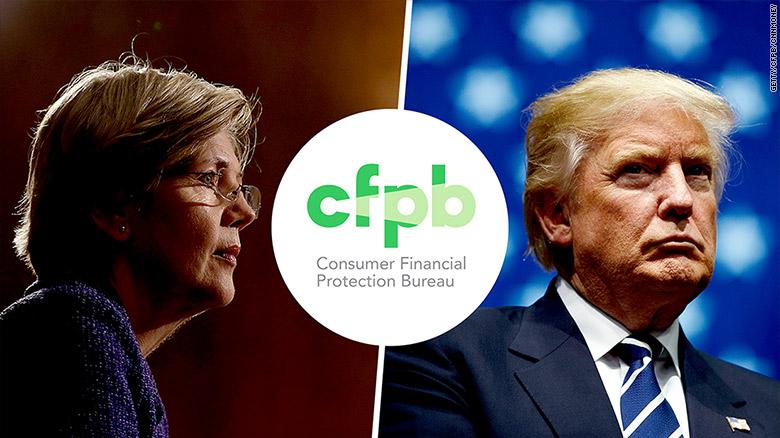 (CNN)President Donald Trump slammed the Consumer Financial Protection Bureau and its former director Saturday, calling the consumer watchdog "a total disaster" just hours after senior administration officials defended his decision to appoint Mick Mulvaney as its acting head.
"The Consumer Financial Protection Bureau, or CFPB, has been a total disaster as run by the previous Administrations pick," Trump tweeted. "Financial Institutions have been devastated and unable to properly serve the public. We will bring it back to life!"
Trump's post spurred a series of tweets in response from Massachusetts Democratic Sen. Elizabeth Warren, an architect of the consumer agency.
"The only thing that will turn the @CFPB into a disaster is for @realDonaldTrump to ignore Dodd-Frank & name an acting director determined to destroy the agency," Warren tweeted.
On Saturday morning, the White House vehemently defended Trump's choice of Mulvaney, the current head of the Office of Management and Budget, as the consumer agency's acting director, calling it a "typical, routine move."
"We think that this move is clearly supported by a plain reading of the Vacancies' Act," a senior administration official said on a call with reporters, referring to the presidential appointment authorities outlined in the Federal Vacancies Reform Act of 1998. "The Vacancy Act is a long-established, used by presidents of both parties as a routine function, and we believe this act is consistent with that long-established practice."
Trump's decision Friday to name Mulvaney as acting director of the consumer watchdog agency came hours after the outgoing director, Richard Cordray, appointed his own successor, sparking confusion and signaling a potential showdown over who's in charge of the agency.
In a tweet Friday night, Warren said that under the Dodd-Frank financial reform law, the agency's deputy director assumes the role of acting director if there's a vacancy. Cordray named his chief of staff, Leandra English, as deputy director, which essentially establishes her as the bureau's acting director.
Trump "can't override that," Warren tweeted. The President "can nominate the next director — but until that nominee is…