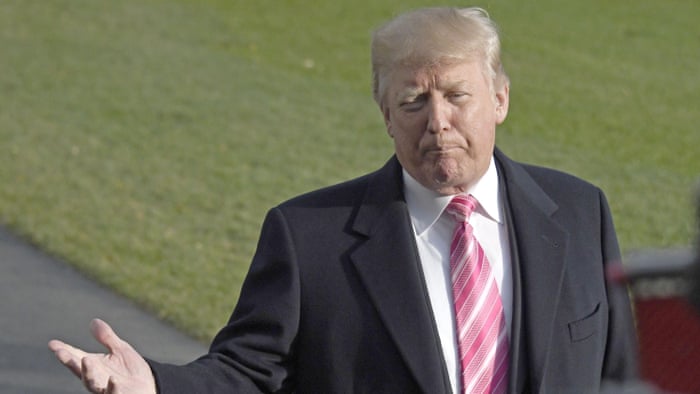 Donald Trump finally weighed in on the sexual misconduct allegations that have engulfed the Senate candidate Roy Moore. The president's comments seemed to amount to an endorsement.
Speaking to reporters at the White House on Tuesday, Trump spoke about the Alabama Republican, who has been accused of sexual misconduct involving teenage girls while he was in his 30s, including two allegations of assault. Moore has denied the allegations.
Asked if he was ready to talk about Moore, Trump said: "Yeah, I'll be talking about him. I can tell you one thing for sure: we don't need a liberal person in there, a Democrat – [Doug] Jones."
Trump went on: "[Moore] denies it. Look, he denies it. I mean, if you look at what is really going on, and you look at all the things that have happened over the last 48 hours, he totally denies it. He says it didn't happen. You're talking about … he said 40 years ago this did not happen.
He also described Moore's opponent Doug Jones as "terrible on crime". Trump said: "I've looked at his record. It's terrible on crime. It's terrible on the border. It's terrible on the military."
Trump also left open the possibility of campaigning with Moore, saying: "I'll be letting you know next week."
Trump's comments represent a significant shift from past statements from the White House, where press secretary Sarah Sanders insisted that the election was a decision for Alabama voters and that Moore should "step aside" if the allegations were true.
She had also said that Trump supported the decision by the Republican National Committee to cut off all support for Moore's campaign.
Many national Republicans have denounced Moore. Senate majority…