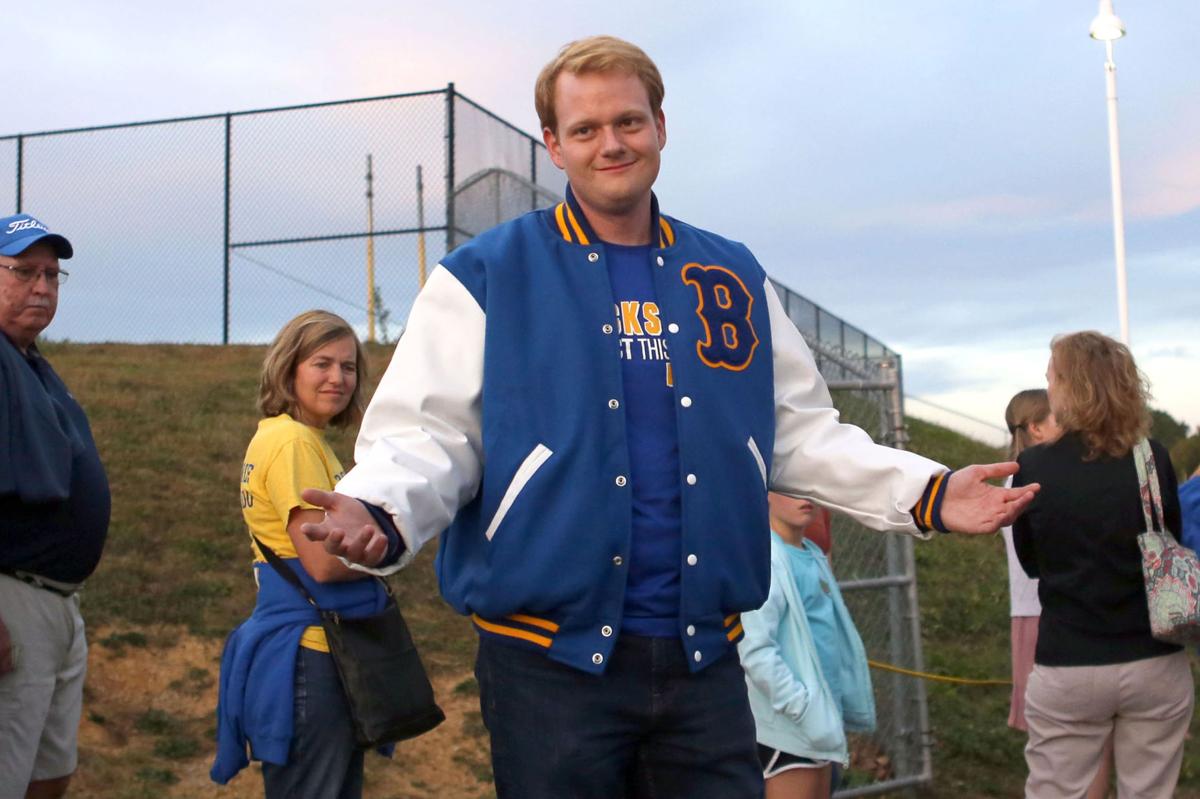 BLACKSBURG — Two years to the day after reporter Alison Parker and cameraman Adam Ward were murdered on air by a disgruntled former co-worker, Chris Hurst stepped up to a microphone unsure of what to say.
Emotionally, it had been a roller coaster of a week for the former WDBJ-TV (Channel 7) reporter and anchor who celebrated what would have been his girlfriend's 26th birthday and mourned the anniversary of her death all within a few days.
Everyone at the annual Democratic dinner in Blacksburg seemed to know the significance of Aug. 26 — a day Hurst will never forget — but he didn't let the numbness he felt keep him from talking.
A small flower was pinned to his lapel. It was teal: Parker's favorite color.
Hurst spoke about a framed piece of paper — a memorial resolution — that hangs in his campaign office. The resolution, like many others the General Assembly routinely passes each year, commemorated the life of a prominent Virginian. This one remembers Alison Bailey Parker as a dogged journalist, talented dancer and a fixture on local TV news.
The gesture was kind, but Hurst said it was not enough.
"We are trying to honor with action," he said.
Hurst was unflinching in his 10-minute remarks. Afterward, the event emcee choked back tears as she embraced Democrats' best hope for making gains in Southwest Virginia.
The 30-year-old, ginger-haired Hurst was catapulted into the national spotlight after Parker's death. He since has abandoned his TV news career and moved to the New River Valley to run for the 12th District seat in Virginia's House of Delegates.
A Democrat, he opposes Del. Joseph Yost, R-Pearisburg, in what has been one of the state's most contentious House races.
Hurst said he doesn't want voters to feel sorry for him — doesn't want their pity votes — and any implication that he's running for office to capitalize on Parker's death makes his blood boil.
But Parker comes up time and again in Hurst's bid to overtake Yost. Her likeness appears in TV advertisements, and Hurst often references her in mailers and campaign literature.
This balancing act has been the greatest challenge of his campaign — how to honor his past without dwelling on it, how to move on from the pain without forgetting her.
Using the spotlight
Eight months ago, Hurst moved out of his Roanoke County apartment and into a basement apartment in Blacksburg offered up by a former Hillary Clinton campaign volunteer.
After Parker's death, Roanoke haunted Hurst. Walking into WDBJ was like walking into a tomb, and the drive to work was a constant flood of memories of their time together, he said.
He had to get out. So he turned to the New River Valley — a familiar place that aligned with his values.
Hurst said he made up his mind to seek elected office after the October 2016 workplace shooting at FreightCar America in Roanoke. Hurst said he felt compelled to effect change.
But Hurst's campaign might have been in the works for longer than he suggests. The domain name of Hurst's campaign website — "hurst4delegate" — was registered in August 2016, two months before the shooting at FreightCar America and more than six months before Hurst left WDBJ.
Unemployed, Hurst now lives off his savings.
His name recognition has helped him along the campaign trail. He has outraised his opponent by more than $150,000 in cash and in-kind donations. He's also earned the attention of big party names such as Democratic National Committee Chairman Tom Perez, Sens. Mark Warner and Tim Kaine and gubernatorial nominee Lt. Gov. Ralph Northam.
As a delegate, Hurst said, he would direct that attention to the 12th District.
"I was given a spotlight, and I have really tried to be focused on taking the spotlight and shining it on people who normally aren't seen," he said. "And while I believe in my heart that while our current elected officials may be good people, they haven't done enough good things for the people of our district."
On the issues
Knocking on doors on a crisp fall day, Hurst sported dark-washed jeans and a wrinkle-free button-down shirt. He wore flower-printed sneakers that aren't his style, but they were a gift and at least they're comfortable, he said, shrugging.
A woman who answered a door comments on the similarities between Hurst and Yost's platforms.
From a regional perspective, Hurst has adopted some of the same issues his opponent…