At a moment when it seems that our democracy is more defined by our discord and our dysfunction than by our own values and principles, let me begin by noting the somewhat obvious point that these offices that we hold are not ours indefinitely. We are not here simply to mark time. Sustained incumbency is certainly not the point of seeking office and there are times when we must risk our careers in favor of our principles. Now is such a time.
It must also be said that I rise today with no small measure of regret. Regret because of the state of our disunion. Regret because of the disrepair and destructiveness of our politics. Regret because of the indecency of our discourse. Regret because of the coarseness of our leadership.
Regret for the compromise of our moral authority, and by our, I mean all of our complicity in this alarming and dangerous state of affairs. It is time for our complicity and our accommodation of the unacceptable to end. In this century, a new phrase has entered the language to describe the accommodation of a new and undesirable order, that phrase being the "new normal".
That we must never adjust to the present coarseness of our national dialogue with the tone set up at the top. We must never regard as normal the regular and casual undermining of our democratic norms and ideals. We must never meekly accept the daily sundering of our country. The personal attacks, the threats against principles, freedoms and institution, the flagrant disregard for truth and decency.
The reckless provocations, most often for the pettiest and most personal reasons, reasons having nothing whatsoever to do with the fortunes of the people that we have been elected to serve. None of these appalling features of our current politics should ever be regarded as normal. We must never allow ourselves to lapse into thinking that that is just the way things are now.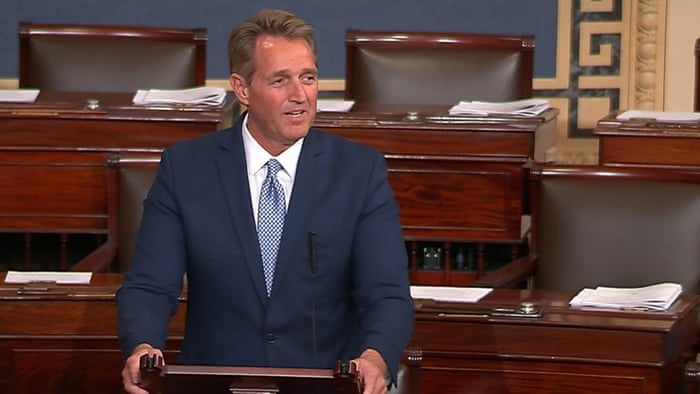 If we simply become inured to this condition, thinking that it is just politics as usual, then heaven help us. Without fear of the consequences and without consideration of the rules of what is politically safe or palatable, we must stop pretending that the degradation of our politics and the conduct of some in our executive branch are normal. They are not normal. Reckless, outrageous and undignified behavior has become excused and countenanced as telling it like it is when it is actually just reckless, outrageous and undignified.
And when such behavior emanates from the top of our government, it is something else. It is dangerous to a democracy. Such behavior does not project strength because our strength comes from our values. It instead projects a corruption of the spirit and weakness. It is often said that children are watching. Well, they are. And what are we going to do about that? When the next generation asks us, why didn't you do something? Why didn't you speak up? What are we going to say?
Mr President, I rise today to say: enough. We must dedicate ourselves to making sure that the anomalous never becomes the normal. With respect and humility, I must say that we have fooled ourselves for long enough that a pivot to governing is right around the corner, a return to civility and stability right behind it.
We know better than that. By now, we all know better than that. Here today I stand to say that we would be better served – we would better serve the country – by better fulfilling our obligations under the constitution by adhering to our Article 1 – "old normal", Mr Madison's doctrine of separation of powers. This genius innovation which affirms Madison's status as a true visionary – and for which Madison argued in Federalist 51 – held that the equal branches of our government would balance and counteract with each other, if necessary.
"Ambition counteracts ambition," he wrote. But what happens if ambition fails to counteract ambition? What happens if stability fails to assert itself in the face of chaos and instability? If decency fails to call out indecency? Were the shoe on the other foot, we Republicans – would we Republicans meekly accept such behavior on display from dominant Democrats?
Of course, we wouldn't, and we would be wrong if we did. When we remain silent and fail to act, when we know that silence and inaction is the wrong thing to do because of political considerations, because we might make enemies, because we might alienate the base, because we might provoke a primary challenge, because ad infinitum, ad nauseam, when we succumb to those considerations in spite of what should be greater considerations and imperatives in defense of our institutions and our liberty, we dishonor our principles and forsake our obligations. Those things are far more important than politics.
Now, I'm aware that more politically savvy people than I will caution against such talk. I'm aware that there's a segment of my party that believes that anything short of complete and unquestioning loyalty to a president who belongs to my party is unacceptable and suspect. If I have been critical, it is not because I relish criticizing the behavior of the president of the United States.
If I have been critical, it is because I believe it is my obligation to do so. And as a matter and duty of conscience, the notion that one should stay silent – and as the norms and values that keep America strong are undermined and as the alliances and agreements that ensure the stability of the entire world are routinely threatened by the level of thought that goes into 140 characters – the notion that we should say or…