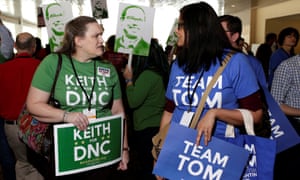 Progressives ousted from Democratic national committee
The DNC is meeting in Las Vegas this week for the first time since Tom Perez became chair. It should have been a moment for consolidation of the party's left and centrist elements.
But instead progressives have been angered by Perez's shake-up of party leaders, which has ousted several of those on the left.
James Zogby, who had served on the DNC's executive committee since 2001, backed the progressive candidate Keith Ellison in the leadership election in…