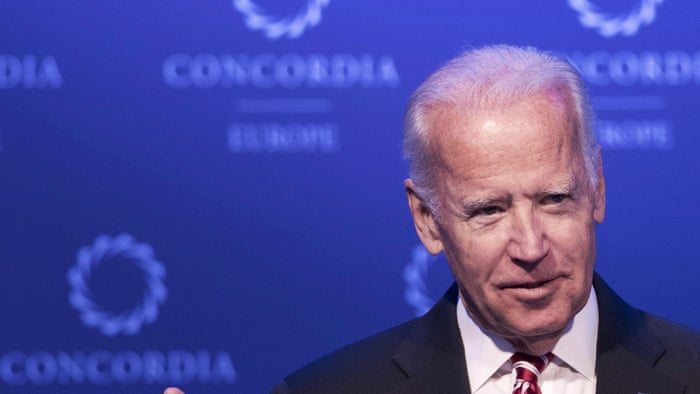 Joe Biden, the former US vice-president, has taken off the gloves with a scathing denunciation of Donald Trump and the existential threat he poses to the postwar international order.
Passionate and pugnacious, his voice sometimes erupting in anger, Biden warned on Thursday that the US was heading down "a very dark path" and urged Washington's foreign policy establishment to take a stand.
It is rare for ex-presidents or vice-presidents to criticise their successors' actions. So far Barack Obama has carefully picked his targets, issuing a few pointed remarks or written statements. But Biden, 74, speaking to an invited audience at a thinktank, decided to let rip.
"I really feel incredibly strongly that the women and men sitting before me, who have been the intellectual backbone of the foreign policy establishment in this country for decades, have to start to speak out," he said. "President Obama and I have been very quiet and respectful, giving the administration time, but some of these roots are being sunk too deeply. I believe it's time to challenge some of the dangerous assumptions that are attempting to replace that liberal world order."
Biden, who spent four decades serving in high public office, was receiving the Zbigniew Brzezinski annual prize at the Center for Strategic and International Studies thinktank. The auditorium was packed, with many people standing, and hushed as he offered a damning verdict on the Trump presidency.
Acknowledging that many Americans feel left behind by globalisation, he said: "The appeal to populism and nationalism is a siren song, a way for charlatans to aggrandise their power, raise themselves up, break down those mechanisms that were designed, whether in our constitution or internationally, to limit the abuse of power, and destabilise the world.
"It's not alarmist. We're walking down a very dark path that isolates the United States on the world stage and, as a consequence, endangers – not strengthens – endangers…