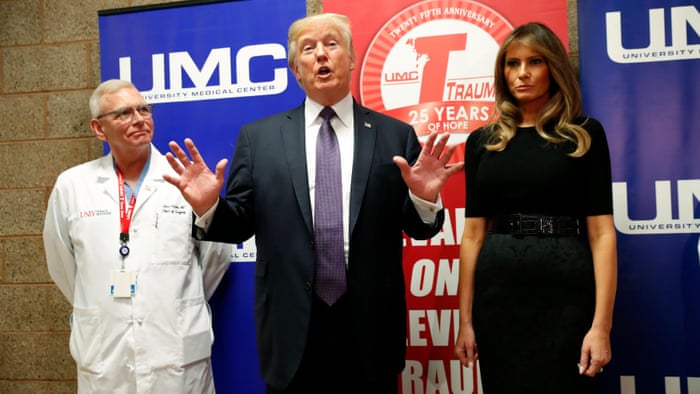 Donald Trump used a politically delicate visit to Las Vegas in the wake of the deadliest mass shootings of modern times to praise the courage of victims and police on Wednesday, but flatly refused to engage in a wider discussion about gun violence.
Despite a renewal of efforts in Washington to reform the country's gun laws, the US president declined to answer a question about the country's problem with gun violence. "We're not going to talk about that today," he said.
Also on Wednesday, an attorney for the Las Vegas shooter's girlfriend, Marilou Danley, said Danley had no knowledge of any plans by him to commit a massacre.
Danley's lawyer, Matthew Lombard, said she planned to cooperate fully with the investigation of Stephen Paddock.
Lombard added that his client said she was surprised when Paddock, a high-stakes gambler, sent her $100,000. She said she had not been expecting the money and it had made her worried that he was breaking up with her.
Trump and the first lady arrived in the Nevada gambling capital shortly after 9.30am, after Air Force One landed at an airport adjacent to the Mandalay Bay hotel and casino, the location from which a gunman rained down bullets on thousands of people at a country music festival on Sunday night.
Speaking at the city's University Medical Center shortly after meeting injured victims, Trump refused to engage with a question about gun violence in America.
He praised hospital staff, police, and victims – some of whom, he said, were badly wounded only because they returned to the concert venue to help others. He said he had invited victims to the White House, telling them: "If you're ever in Washington, come on over to the Oval Office."
He added that his message to victims of the tragedy was: "We are there for you. And they're there for us."
He described the shooter, Stephen Paddock, as "a very sick man" and "a very demented person", but said there was "not yet" information about his motives. "You will know very soon if we find something. We're looking very, very, hard."
Paddock, 64, killed 58 people and injured nearly 500, using an arsenal of 23 weapons that included semi-automatic assault rifles that appeared to have been been legally modified so that they functioned more like fully automatic machine guns.
"It's a very sad thing," Trump told reporters shortly before leaving the White House. "We're going to pay our respects and to see the police who have done really a fantastic job in a very short time."
He added: "It's a very, very sad day for me, personally."
Trump's visit to Las Vegas comes at a critical stage for the investigation into the shooting, and the president, before departing from Washington, suggested significant information would be made public imminently.
Law enforcement officials described the shooting as a meticulously planned attack from a 32nd-floor window of a tower in the Mandalay, but they concede they have struggled to ascribe a motive to the killer.
Paddock's girlfriend, Marilou Danley, a 62-year-old grandmother described as "a person of interest", arrived back in the US late on Tuesday from the Philippines, where she had been traveling at the time of the attack, to be questioned by the FBI.
…