The United Nations general assembly met in New York this week, affording Donald Trump his first opportunity to address the world body as president. He duly gave a bellicose speech in which he said that if provoked, the United States "will have no choice but to totally destroy North Korea".
Last weekend
The White House pushed back at a Wall Street Journal report that Trump was looking for ways to avoid exiting the Paris climate accords. "There has been no change in the United States' position on the Paris agreement," a spokesperson said. "As the president has made abundantly clear, the United States is withdrawing unless we can re-enter on terms that are more favorable to our country."
Monday
In a bilateral appearance at the UN with the French president, Emmanuel Macron, Trump mentioned how impressed he had been with the military parade he saw in Paris earlier this year and said he would like one of those for himself.
"To a large extent, because of what I witnessed [in France], we may do something like that on 4 July in Washington down Pennsylvania Avenue, if I have your approval," Trump told Macron. "I don't know. We're gonna have to try and top it, but we had a lot of planes going over and a lot of military might."
It was also revealed in a CNN report citing unnamed sources that the former Trump campaign chairman Paul Manafort had been the target of a secret wiretap by the US government before and during the presidential election. Any revelations from the wiretap were not disclosed.
Trump appeared before the UN general assembly and made eyeballs pop with the line: "If [the US] is forced to defend ourselves or our allies, we will have no choice but to totally destroy North Korea." Trump also suggested that he may yet seek to unravel the Iran nuclear deal, which he called "an embarrassment to the United States".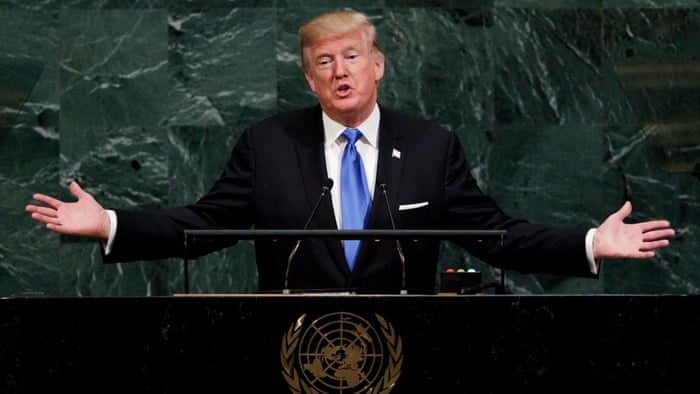 The speech was met with stony silence and occasional outbursts of perhaps disbelief. The White House chief of staff, John Kelly, listened with face planted firmly in palm.
In reply to a major and deadly earthquake that struck Mexico City, Trump tweeted:…