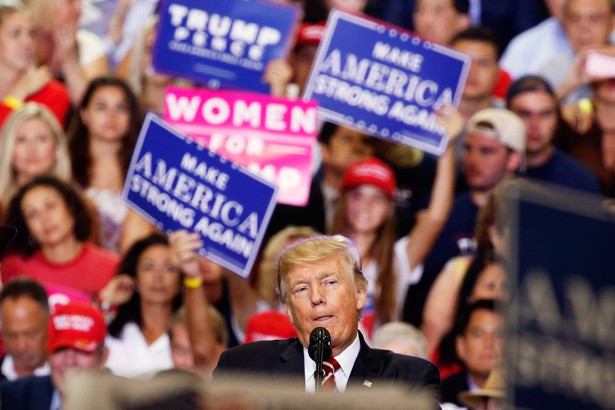 There's a lot to admire in Ta-Nehisi Coates's new essay. It's one of those pieces that grabs you with its first paragraph and never lets go. The argument keeps gathering force, building on the striking imagery ("Trump cracked the glowing amulet open") and the caustic scouring of the polemics (opioids are treated as a sickness, crack was punished as a crime), to the very end. At its heart is the undeniable truth that racism remains fundamental in American politics.
It's the overwhelming, the single cause that Coates finds for the phenomenon of Donald Trump. It's a cause no one in America should ever bet against. And it shapes every premise Coates lays down. Because he takes all white American political behavior as undifferentiated and founded on the idea of race, he faults me for writing a pre-election essay in The New Yorker about the white working class. Since a majority of all categories of white people ended up voting for Trump, why single out white voters without college degrees, unless it's to absolve them of their racism by invoking other factors, like class? Or worse, to extend them sympathy, since they've fallen into the lower depths where, unlike black Americans, they don't "naturally" belong? Or, worse still, to absolve myself?
During the campaign, poll after poll showed that the two main indicators of support for Trump, in differing degrees, were varieties of bias and a sense of economic decline. I wrote about white working-class voters because their political behavior is increasingly different from that of well-educated, professional whites, in ways that paint the current map of America red. From Roosevelt to Reagan, Clinton, Obama, and Trump, they've become the key swing vote. The razor-thin election results in the Rust Belt bore my essay out.
At the heart of American politics there is racism. But it's not alone—there's also greed, and broken communities, and partisan hatred, and ignorance. Any writer who wants to understand American politics has to find a way into the minds of Trump voters. Any progressive politician who wants to gain power has to find common interests with some of them, without waiting for the day of reckoning first to scourge white Americans of their original sin. This effort is one of the essential tasks of politics.
You didn't hear it from Coates, but in my essay I discussed the relation between race and class, arguing that bigotry is fixed and immutable in some people, while in others bias can be manipulated by a demagogue like Trump depending on circumstances. I added that anyone who supported Trump, for whatever reason, "will have tried to put a dangerous and despicable man in charge of…