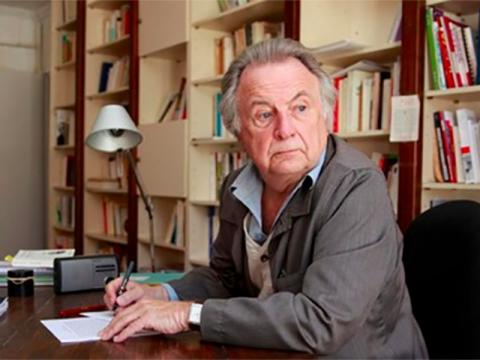 In France's highly secularized society, anyone who talks about religion and politics risks being written off as a closet demagogue, a Catholic traditionalist, or a potential radical Islamist. Officially, the twain should never meet.
Régis Debray, a leading figure among the public intellectuals who dominate French op-ed pages and late-night talk shows, has bucked the trend by studying the religious roots of current affairs that other commentators regularly overlook.
If it weren't for his lifelong radical credentials — onetime ally of Fidel Castro, comrade of Che Guevara, still on the far left at 77 — and support for France's official secularism, Debray might just be ignored. But that ideological pedigree, plus a bit of mellowing with age, has made him into an original observer of the French political scene.
His latest book, "Le Nouveau Pouvoir" [The New Power], turns this spotlight on last May's sweeping election victory by Emmanuel Macron, the new 39-year-old president who came from near obscurity to push the polarized old political parties aside and bring in a centrist government unimaginable only a year ago.
While others pored over opinion polls and political strategies to analyze Macron's sweeping victory — he won the presidency with 66 percent of the vote and his start-from-scratch party took 61 percent of the seats in the National Assembly — Debray stepped back to look for the cultural roots of the political upheaval.
What he found was a "neo-Protestant" challenge to France's traditional "Catholic/secular" political culture, transforming politics from behind-the-scenes battling among elites to more open and transparent governance.
Macron, a former investment banker who had never before run for office, wants to push through market-friendly economic reforms, shake up the over-regulated labor market, and blur the country's traditional left-right ideological split. If Macron — a Catholic who speaks little of religion — succeeds, this could amount to a major cultural shift in the way France is governed.
For Debray, that approach echoes some economic positions of the U.S. Republican Party and of the evangelical "neo-Protestants" who support it.
Macron's way of stressing…