Pyongyang claims that it's had a "complete success" for its testing of hydrogen bombs, the sixth nuclear test. Seismologists detected 5.7-6.3 magnitude of a man-made earthquake on Sunday. Both South Korean and US government sources confirmed that there was an underground test near Kilju, Punggye-ri in North Hamgyong where the last five nuclear tests were conducted.
This is less than a week after North Korea fired a ballistic missile over Japan and three weeks after it threatened to attack the US territory Guam. Pyongyang's aim is to complete its nuclear status by the end of the year. The regime says its nuclear power would protect the country from the US aggression. The North's nuclear program, according to them, is for their self-defence and deterrence from US invasion.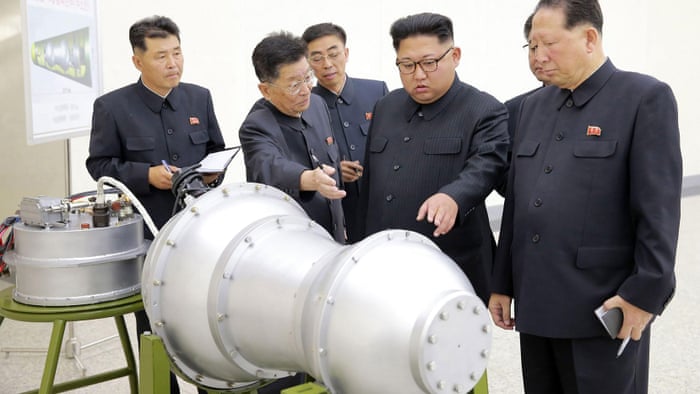 North Korea is not a democratic country and its human rights situation is not up to any post-war international standards. There are historical reasons for it. The country has never experienced a peaceful transition to modern democracy. It was a feudal dynasty until 1910 when Korea was forcibly annexed by Japan. The 1919 Korean Independence Movements were severely crushed by the Japanese. There were systematic discrimination against ethnic Koreans during the colonial period.
At the end of the second world war in 1945, it was not Japan but Korea that the USSR and the US decided to divide. After the Korean war ended with the 1953 armistice, signed by North Korea, China and the UN led by the US, North Korea has been under the Kim family dynasty.
Since the end of the cold war, North Korea lost all its socialist allies whose systems then all collapsed. Moscow and Beijing shifted its policy more towards being part of the international market economy. North Korea has never had that chance because of the very fundamental regime survival and national security issues they have. Isolating itself from the rest of the world and creating external threats and inter-Korean conflicts have been the regime's means to survive.
The denuclearisation of North Korea has failed. The 1994 Geneva framework between the US and North Korea didn't deliver its promises. The six-party talks initiated by Beijing…