The White House has prepared a request to Congress for an emergency $5.9bn (£4.6bn) package in Harvey recovery aid, as flood waters receded in Houston to reveal swaths of devastation wrought by the former hurricane.
It is expected to be followed by further requests that could exceed the $110bn to victims of 2005's Hurricane Katrina.
Rescuers continued plucking people from flood waters across Texas as the death toll rose to 44 almost a week after the storm slammed into the Gulf of Mexico coast. Emergency crews and volunteers in boats, trucks and aircraft scoured inundated suburbs around Houston and cities to the east for people still in need of evacuation.
Police rescued 18 people from flood waters overnight, said Houston's mayor, Sylvester Turner. "Crisis ebbing but far from over."
In dryer areas recovery crews started to assess damage and remove debris. They braced for the discovery of bodies.
Harvey, once a category 4 hurricane, was downgraded to a tropical depression as it moved over north-eastern Louisiana and into Mississippi.
The emergency aid plan will be sent to Congress on Friday with House and Senate votes likely next week.
The White House homeland security adviser said the initial aid money would be a down payment for immediate recovery efforts, to be followed by larger packages later.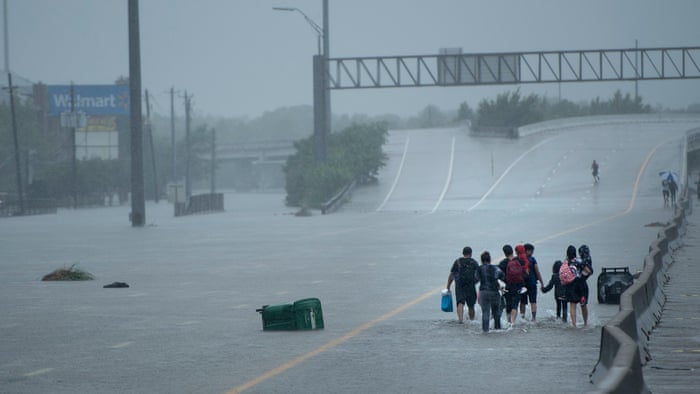 "We'll go up to Congress and give them a sound supplemental request number. We'll add to it," Tom Bossert said. "And when we can get a better handle on the damage we can come back with a responsible last, so to speak, supplemental request."
Donald Trump has also pledged to donate $1m in personal funds to the relief effort.
Fires and two explosions early on Thursday at a chemical plant in Crosby, north-east of Houston, have jolted residents to the presence of new dangers as waters recede.
The plant, which makes organic peroxides used in plastic resins and paint, lost refrigeration due to the storm. An executive warned that eight more tanks could burn and explode. Contradictory messages from officials left people unsure if emissions were toxic.
The Texas department of public safety said 48,700 homes had sustained flood damage, including 17,000 with heavy damage and 1,000…